2017 FIVB World League
The 2017 edition of the World League is the 28th in the history of the event. There are a record number of teams competing with 36, with the event being split into three groups. With the first edition of the World League beginning in 1990 with only eight countries competing, this is a big year for the event having 36 opponents.
The competition will be split into three weeks of play, with three days of play at a time, all with different hosts throughout.
Last year's winner, Serbia, took on Brazil in the finals match, sweeping the Brazilian team 3-0, (25-22, 25-22, 25-21) in Group 1. Canada won Group 2 with an 8-1 record, while Slovenia took Group 2 with a 5-1 record.
Group 1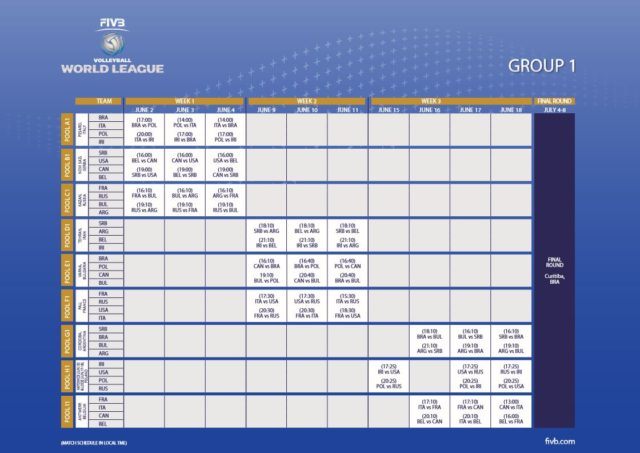 Teams Competing
South America: Argentina, Brazil
Europe: Belgium, Bulgaria, France, Italy, Poland, Russia, Serbia
NORCECA: Canada, USA
Asia: Iran
Of the 12 teams competing in Group 1, 11 of them return from the 2016 edition, with the addition of Canada, the 2016 Group 2 winners. The finals for Group 1 will be played in Curitiba, Brazil from July 4-8.
Group 2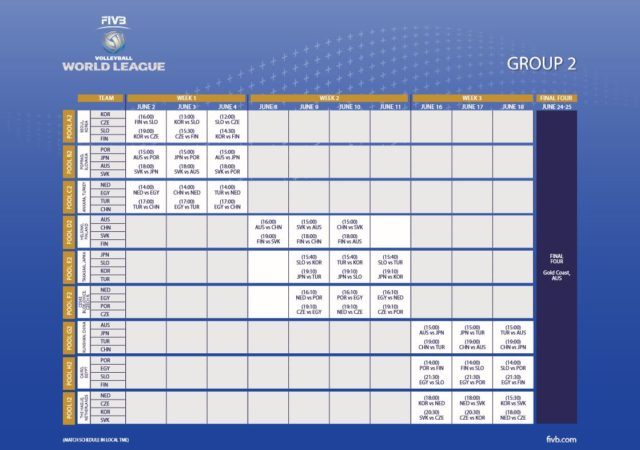 Teams Competing
Asia: Australia, China, Korea, Japan
Europe: Czech Republic, Finland, Netherlands, Portugal, Slovakia, Slovenia, Turkey
Africa: Egypt
There are 10 teams from the 2016 edition of the event that will compete in Group 2 again, with the addition of the Group 3 winner from 2016, Slovenia and the 12th place finisher from Group 1 Australia. The finals for Group 2 will be played at Gold Coast, Australia from June 24-25.
Group 3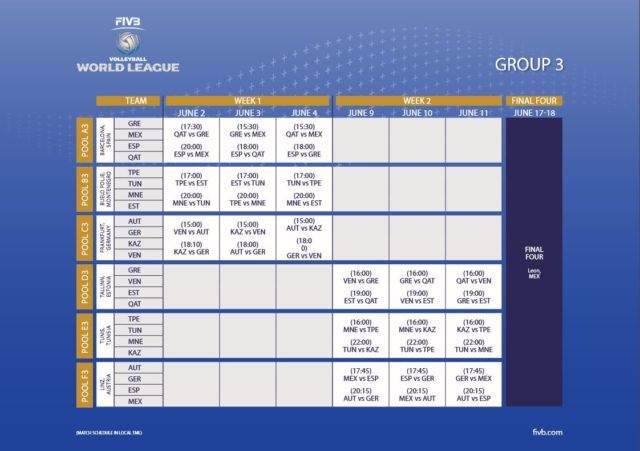 Teams Competing
Europe: Austria, Estonia, Germany, Greece, Montenegro, Spain
Asia: Chinese Taipei, Kazakhstan, Qatar
NORCECA: Mexico
Africa: Tunisia
South America: Venezuela
The Group 3 Preliminary Rounds will only take place over two weeks, instead of three. The top three teams will join the hosts (Mexico) for the final four round from June 16-18 in Leon, Mexico.