The 2017 version of the European Volleyball Championships have just concluded weeks ago and already the field has been announced for the 2019 version two years down the line.
There will be as many as 48 teams participating in the European Championships in 2019 – 24 teams per gender – during the Final Round and eight countries set to play host. Set to host on the men's side are France, Slovenia, Belgium and the Netherlands while Turkey, Poland, Hungary and the Czech Republic will cover the women's side.
There are currently 12 teams already qualified for the championships, meaning that another 12 teams per gender still have the opportunities to claim their stake at the championships. The qualification process for the championships will begin in August 2018 and are set to conclude in early January 2019.
Men's Qualification
There are a total of 12 men's squads that have already qualified for the event – four being the hosts – France, Slovenia, Belgium and the Netherlands. The other eight are Russia, Germany, Serbia, Italy, Bulgaria, the Czech Republic, Poland and Turkey.
The qualification will begin in just under a year from now, with the following teams set to compete to claim the remaining 12 spots allotted to them: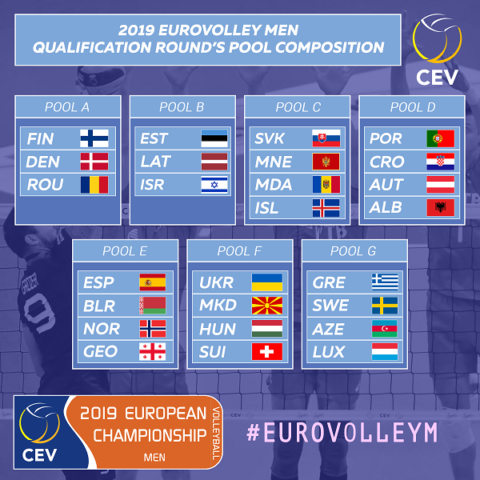 There are seven pools set out to play in August 2018, with the top team in each pool along with the top-five second place teams moving on the the next round. Since there is an uneven number of teams per pool (two pools of three and five of four), the team that finishes last in the five pools of four will be eliminated to secure full fairness in the selection process.
Women's Qualification
The women's side will be slightly different than the men's side, in that they have just six pools of four teams. The winners and runners-up of each pool will move on the 2019 EuroVolley tournament. Teams will each play each other twice – once at home and once on the road.
There are already 12 teams selected to compete in the tournament automatically – Turkey, Poland, Hungary and the Czech Republic as hosts along with Serbia, the Netherlands, Azerbaijan, Italy, Russia, Belarus, Germany and Bulgaria. See the remaining teams fighting for the last 12 spots below: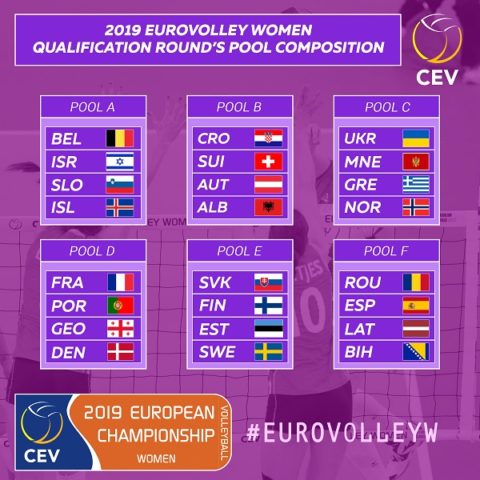 Qualification Schedule
1st Leg: 15th August 2018
2nd Leg: 18th or 19th August 2018
3rd Leg: 22nd August 2018
4th Leg: 25th or 26th August 2018
5th Leg: 05th or 06th January 2019
6th Leg: 09th January 2019