With the opening day of the Men's Final 6 being a tripleheader played at the Ota Ward Gymnasium in Tokyo, a loss could put you in a hole that could be too hard to get out of.
In the longest match of the season from a points standpoint at 242, and 2:40 long, the JT Thunders and Suntory Sunbirds went five sets with three of the sets going into extra points. The Thunders who finished fourth in the regular season met Suntory who had finished fifth. Suntory took a 2-0 set lead with wins in extra points in the first and second set at 27-25 and 30-28 respectively. JT fought back in the third set to stay alive at 2-1. In the fourth set, Suntory came from behind to tie the set at 16, but a late run gave the Thunders a gap to even the match at two sets all. Suntory had a 5 point lead in the fifth set at 9-4. Normally in the men's game that means that the match is over. Suntory had match point at 14-10.  A kill got JT the serve. An Edgar with a kill to make it 12-14 and Suntory with a timeout. A block on Escobar after the time out, and then another block to tie the set at 14 all! Suntory had two more chances at match point, but the Thunders survived and then JT had their own match points at 17, 18, 19 and 20. At 20-20, a Thunders spike gave them a lead at 21-20, and after a long rally, Thomas Edgar ended the match with a kill for his 50th point. Thunders win the set 22-20 and the match 3-2. Edgar was named Man of the Match and in the post match interview said,
Suntory showed such a great game today and we were lucky to get out today with a win. But it was a great match and I hoped that the fans enjoyed it….It was a real team effort across the board for getting this win….No matter how many points it takes, if I have to hit 100 points, I'll do it…At least we don't have to play tomorrow.
Edgar finished with 46 kills, 3 blocks and 1 ace to reach his 50 points. Edgar is the first player to hit 50 or more points this season in the world. This is the second time as a club player that he has hit 50 or more, the last time in November 2013 in the Korean League with LIG Greaters (now KB Stars).
Suntory's Yadrian Escobar tried to keep pace with 31 (26k, 2b, 5a) in the loss. His teammate Kenya Fujinaka also contributed 21 kills for the Sunbirds. JT's Taishi Onodera had 4 of the 16 blocks for the Thunders who won the blocking battle by nine. Suntory had a set's worth of service errors with 25, compared to JT's 15. Suntory's Escobar and rookie Masaki Ohya each had 7 service errors.
Moving over to the regular season champions, Panasonic Panthers they met the third place Toray Arrows. The Panthers dominated in all three phases of the game, blocking (+8), serving (+5 aces and -1 errors) and spiking (+11 kills). Kunihiro Shimizu led all scorers with 17 points (16k, 1b) in the win for the Panthers. Michal Kubiak (6k, 3b, 3a) and Tatsuya Fukuzawa (9k, 2b, 1a) each had 12 for Panasonic. Kenji Shirasawa for the Panthers had four blocks. Canadian Gavin Schmitt was the only player for Toray to reach double figures with 11 (9k, 1b, 1a).
In the other match of the day second place Toyota Gosei Trefuerza faced sixth place JTEKT Stings. Toyota fed the ball to Igor Omrcen and the Stings could not stop him. Omrcen finished with 28 points on 25 kills (2 errors in 37 swings), 2 blocks and an ace. Even more impressive though for Trefuerza was that other than blocks, they made no other hitting errors in the match. Trefuerza had 48 kills as a team with only 7 total hitting errors (2 errors and 5 blocked by JTEKT), and that makes it tough to win. High schooler Yuji Nishida led the Stings with 14 points (11k, 2b, 1a) in the loss.
Final 6 Results for February 10, 2018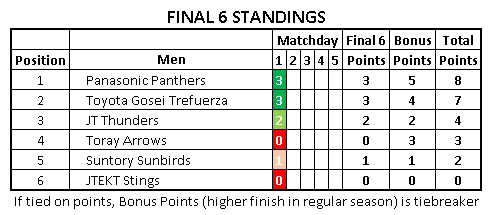 Schedule for February 11, 2018