2017 U21 WORLD BEACH CHAMPIONSHIPS
July 11-14
Nanjing, China
Pool play has ended at the U1 World Beach Championships, with teams on both the men's and women's side moving to the round of 16. The grueling heat and humidity have been a struggle for the teams with 36 degrees C (96.8 degrees F) in Nanjing, China.
Women

For the women, Russia's Nadezda Makroguzova/Svetlana Kholomina move on to the round of 16 after going undefeated in their pool. Even more impressively, they accomplished this without dropping a single set.
Other teams topping their pools are – Eduarda 'Duda' Santos Lisboa/Ana Patricia Silva Ramos of Brazil, Megan McNamara/Nicole McNamara of Canada, Kathryn Plummer/Milica Mirkovic of the USA,  Michelle Sharon Valiente Amarilla/Giuliana Poletti of Paraguay, Tina Graudina/Anastasija Kravcenoka of Latvia and Viktoryia Shalayeuskaya/Viktoryia Siakretava from Belarus.
Men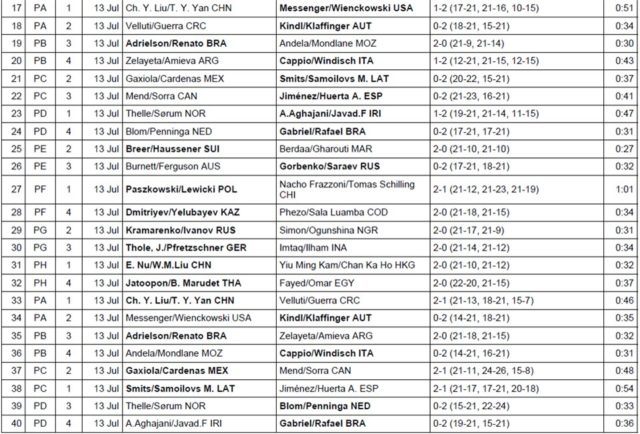 On the men's side of the tournament, the Austrian duo of Moritz Fabien Kindl and Marian Klaffinger did not waste their lucky loser spot – topping their pool. In their final pool play match, the pair took down USA's Clay Messenger/Adam Wienckowski 2-0, (21-14, 21-18).
Also showing some vigor in their pool is Adrielson Dos Santos Silva/Renato Andrew Lima de Carvalho of Brazil, topping their pool with three straight wins. They now move on directly to the quarterfinal phase of the tournament.
Other teams moving right along to the Round of 16 are Gabriel Heilborn Gouveia/Rafael Jose Mendonca de Queiroz of Brazil, Florian Breer/Yves Haussener of Switzerland, Mateusz Paszkowski/Maciej Lewicki of Poland, Kristaps Smits/Mihails Samoilovs of Latvia and Julius Thole/Lukas Pfretzschner of Germany.