2017 FIVB World Tour – Gstaad Major
July 4 to July 9
Five-Star Event
Gstaad, Switzerland
The qualification round of the Gstaad Major has ended with eight squads of both genders moving on to the main draw of the tournament.
Gstaad is a five-star event, much like Fort Lauderdale and last week's FIVB World Tour event in Porec. With it being a five-star event, the payout is larger than the lower starred events, with a $600,000 purse prize.
Women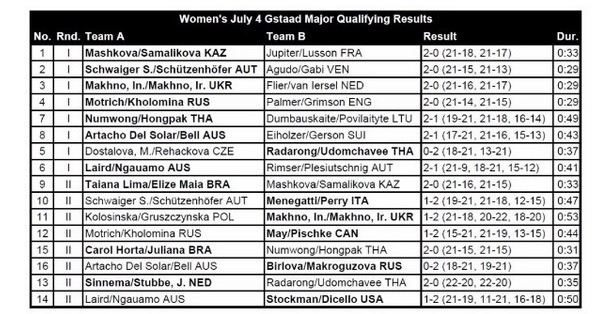 On the women's side of the qualification tournament, Ukrainian twin sisters Inna Makhno and Iryna Makhno qualified for their second main draw event in 11 international starts together. The last time the two qualified was back in October 2015 in Antalya, Turkey.
The two took down Manon Nummerdor-Flier/Marleen Van Iersel of The Netherlands 2-0, (21-16, 21-17) then Jagoda Gruszcynska/Kinga Kolosinska of Poland 2-1, (18-21, 22-20, 20-18).
Emily Stockman and Kim DiCello of the United States also qualified after taking down Australian's Jessyka Ngauamo and Nicole Laird 2-1, (19-21, 21-11, 18-16). Stockman and DiCello entered the qualification round after taking down Emily Day and Brittany Hochevar 2-0, (31-29, 21-19).
Men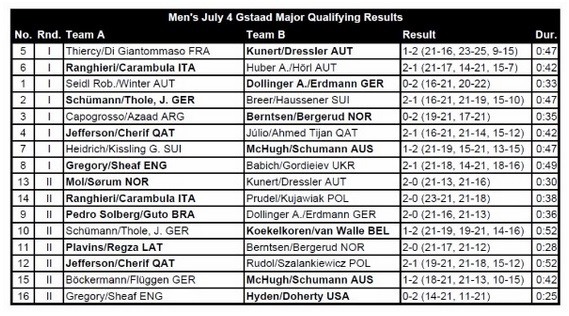 The winner of the Porec Major just two days ago, Gustavo "Guto" Carvalhaes/Pedro Solberg headed straight to Gstaad to compete in a country quota match against Vitor Felipe/George Wanderley 2-1, (21-16, 14-21, 15-12). The win moved them to the qualification tournament where they took down Armin Dollinger/Jonathan Erdmann of Germany 2-0, (21-16, 21-13) to win an international match in each of the last nine days, setting an FIVB World Tour record.
"It's an incredible streak," said Carvalhaes. "Each match is tough and we have to play our best."
Carvalhaes called winning the Porec event over Italians Daniele Lupo and Paolo Nicolai as the highlight of his beach volleyball career.