2018 Big East Volleyball Championship tournament
November 24th-25th
Al McGuire Center, Milwaukee, Wisconsin
Live Stream: Semifinal 1 (Creighton vs. Villanova)
Live Stream: Semifinal 2 (Butler vs. Marquette)
Live Stream: Championship game
TV: FS2 (Finals)
The 2017 Big East Volleyball Championship, to be held this weekend in Milwaukee, will pit the conference's top 4 teams from the regular season against each other in a two-round tournament for the conference title and an automatic spot in the NCAA tournament.
After last year's two-bid season, including a Creight run to the quarterfinals of the NCAA National Championship tournament, the conference is poised to once again send at least a pair to NCAAs.
RPI of Big East Tournament Teams (By Seed):
Creighton Bluejays – #16
Marquette Golden Eagles – #32
Butler Bulldogs –  #54
Villanova Wildcats – #68
If Creighton and Marquette both safely advance to the Big East Championship game, they should both earn an invite to the NCAA tournament. Creighton is a lock for NCAAs – a Big East title should lock up a top-16 seed and early round hosting duties for the Bluejays.
If Butler were to roll in and win the title (which would probably mean beating Marquette and Creighton), then this could be a 3-team league, but that would get dicey for Marquette, who have a few nice out-of-conference wins (Hawaii, Miami (OH), Butler) but no statement victories that will make the committee sit up and take notice.
Regardless, Creighton will enter the tournament as heavy favorites, and it would be easy to chalk them up for a 4th-straight Big East Tournament title. There's just enough on the resume to give pause to that notion, however. Creighton's two Big East losses this season were to Villanova (their opening round opponent) and Marquette (their projected finals opponent). In their first matchup of the season against 2nd-seeded Marquette, the Bluejays were swept 3-0 and hit just .093 while allowing Marquette to hit .321. For a team that's hitting .279 in total on the season, an .093 output could be a red flag.
They avenged that loss later in the season with a 3-0 sweep at home where they hit .327.
2 weeks later, though, they were swept by their opening round opponent Villanova 3-0 – again at Villanova. They handled the Wildcats pretty comfortably earlier in the year (3-1) and still hit fairly well in their latest loss (.241), but let Villanova hit .304. Creighton had only 2 team blocks in the second game against Villanova – blocking is an area where they've been challenged this year, especially late in the season where they're averaging just 1.16 blocks/set in their last 7 games – about half of their season average.
Creighton also has 193 service errors this season – 17 more than their opponents have hit.
All that to say – Creighton is definitely the favorite, but there are a few weaknesses to be exploited – and both Villanova and Marquette found a way to do so at least once in the regular season.
The upsides are there for Creighton too. They lead the conference in hitting percentage (.279) and are 2nd to Butler in opponents' hitting percentage (.181). Marysa Wilkerson is hitting .369 on the season, and a diverse Bluejay offense has 3 players ranked in the top 15 in the conference in kills/set. The team should also be fresh – they've played just 102 sets so far this season, which is fewer than any of their Big East tournament opponents (Marquette 104, Butler 115, Villanova 105), and have played a lot of 3-setters down the stretch.
Our bets are still on the Bluejays, but this tournament is far from the runaway that it might seen given the lofty expectations for Creighton this season.
And in spite of the lock-status for the NCAA tournament, Creighton is playing for something: if they win, they'll be in position to host the opening weekend of the NCAA tournament. That's big.
Action kicks off on Friday.
Bracket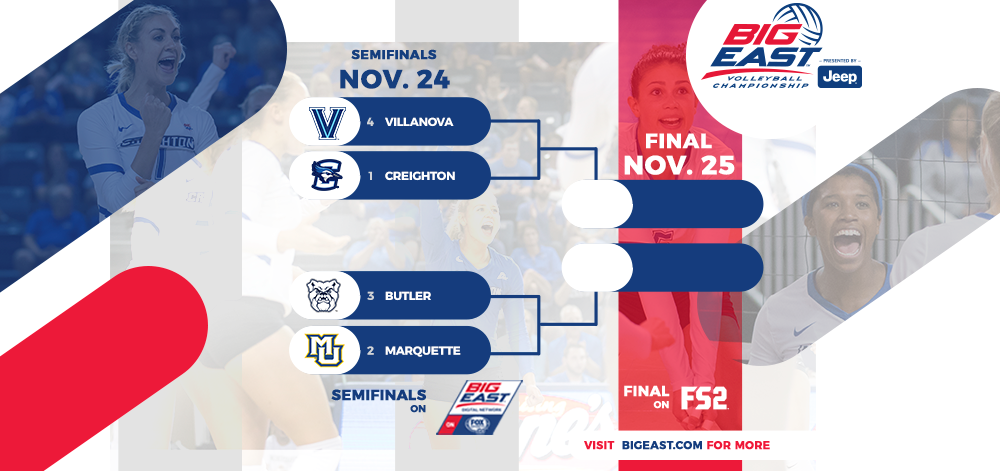 Schedule (All Times Eastern)
Date
Time (CT)
Matchup
TV Info

 

Friday, November 25

 

Semifinals
11/24
12:30 PM
#1 Creighton vs. #4 Seed

11/24
2:30 PM
#2 Marquette vs. #3 Seed

 

Saturday, November 26

 

Final
11/25
1:30 PM
TBD