2017 FIVB WORLD TOUR – POREC MAJOR
June 26 to July 2
Five-Star Event
The second day of the FIVB World Tour event in Porec has ended with the final 16 teams on the women's side being determined while the men's side continues with pool play.
On the women's side of the tournament, many familiar faces have surfaced into the final rounds of the tournament, while some newcomers are beginning to rise up their level of play.
The highlight of the day was the World Major Series debut of soccer star Ivan Perisic, representing Romania, under the lights on center court. On the same day as rumors great that Inter Milan would keep the winger, rather than allow him to make a transfer to Manchester United, Perisic dropped both matches at the Porec major in his home country.
See highlights of his debut below:
Women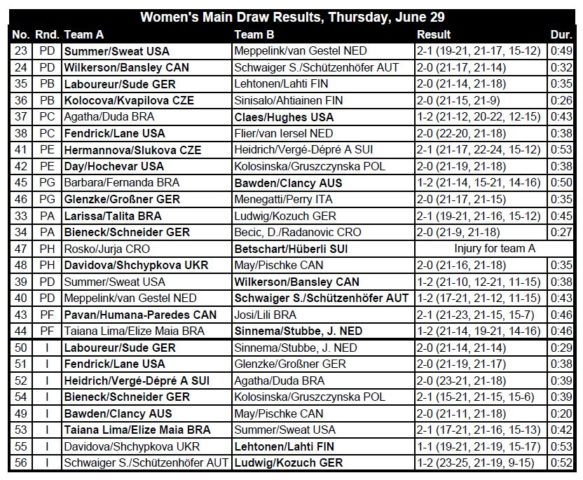 16 teams remain in Porec after two days of play. Talita Antunes and Larissa Franca of Brazil lead the pack as the top-seeded team going into the round of 16. Joining Antunes/Franca with the top seeds going into the finals is Kristyna Kolocova/Michala Kvapilova of the Czech Republic, Kelly Claes/Sara Hughes of the United States and Brandie Wilkerson/Heather Bansley of Canada.
Summer Ross and Brooke Sweat of the United States were wiped out of the competition in a three-set loss to Australian's Taliqua Clancy and Louise Bawden 2-1, (17-21, 21-16, 15-13).
Brazilian's Agatha Bednarczuk and Eduarda 'Duda' Lisboa Santos had a rough go-around at the tournament, losing both their matches, one against Claes/Hughes and the other to Anouk Verge-Depre/Joana Heidrich to be knocked out of the tournament.
Men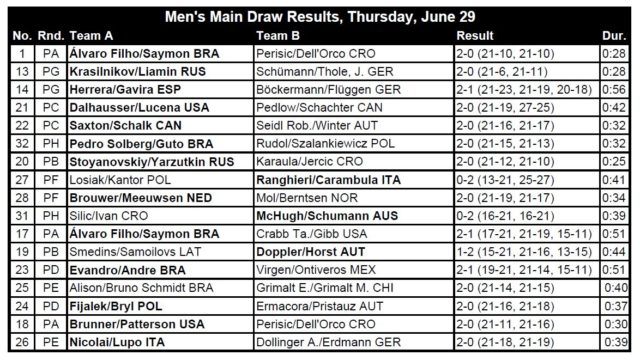 The big story on the men's side of the tournament is Croatian soccer player Ivan Perisic played in his first professional beach volleyball tournament of 2017. Perisic and partner Niksa Dell'Orco were downed in each of their matches of the day but started to pick up their play against American's Theo Brunner and Casey Patterson.
Patterson said after the match, "It was great to play against Ivan – I wish I was as good at soccer as he is at beach volleyball."
American's Phil Dalhausser/Nick Lucena took down Canadians Sam Pedlow/Sam Schachter 2-0, (21-19. 27-25). Alison Cerutti/Bruno Schmidt of Brazil also won their match over Chilean's Marco Grimalt/Esteban Grimalt 2-0, (21-14, 21-15).
The men have one more day of pool play competition before they enter into the elimination portion of the tournament.
Perišić making an impression! #PorecMajor https://t.co/hqkkrXyqhU pic.twitter.com/uH0pa70fvg

— Swatch Major Series (@SwatchMajors) June 29, 2017