2017 U21 World Beach Championships
July 11-14
Nanjing, China
The main draw for the U21 World Beach Championships has been announced in Nanjing, China with the qualification round concluding. The main draw will begin on July 12 with the finals on July 14.
Men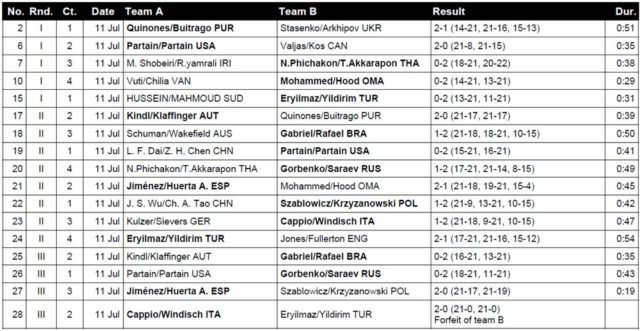 Gabriel Heilborn Gouveia/Rafael Jose Mendonca de Queiroz of Brazil partnered up for the first time in the tournament, taking down Australian's Justin Schumann/Mitchell Wakefield 2-1, (18-21, 21-18, 15-10). Their final qualification round match was against Fabien Kindl Moritz/Marian Klaffinger of Austria, winning 2-0, (21-16, 21-13). The win secured their spot in the main draw of the tournament. Previously Gouveia won the U19 World Championships in 2016 along with his former partner.
The next team to enter the main draw was Spain's Oscar Jimenez Gutierrez/Alejandro Huerta Pastor. The pair has a ton of experience together, playing together since 2014, winning silver at the U19 World Championships in 2014. The pair took down Sudan's Hussein Hassan/Mahmoud Babiker 2-1, (21-18, 19-21, 15-4), dominating the final set. The duo clinched their way into the main draw with a win over Poland's Michal Szablowicz/Bartlomiej Krzyzanowski 2-0, (21-17, 21-19).
Russia's Sergey Gorbenko/Anton Saraev enter the main draw in their first tournament as a pairing, taking down Thailand's Phichakon Narathon/Akkarapon Tumdee 2-1, (21-17, 14-21, 15-8). In the second round of the qualification tournament, Gorbenko/Saraev met American's Marcus Partain/Miles Partain, winning 2-0, (21-18, 21-11).
The final entry to the main draw came in Italy's Paolo Cappio/Jakob Windisch after than second round match of Mecit Eryilmaz/Huseyin Yildirim Hasan of Turkey were forced to forfeit their match.
Women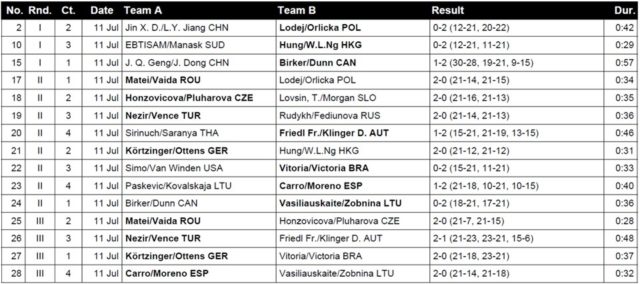 Romania's Adriana-Maria Matei/Beata Vaida move on to the main draw of the U21 World Championships after taking down Poland's Marta Lodej/Magdalena Orlicka 2-0, (21-14, 21-15). The match that secured their spot in the main draw was Natalie Honzovicova/Tereza Pluharova of the Czech Republic 2-0, (21-7, 21-15).
Merve Nezir/Aleyna Vence of Turkey earned their spot in the main draw after taking down Austria's Franziska Friedl/Dorina Klinger 2-1, (21-23, 23-21, 15-6).
Germany's Leonie Kortzinger/Lena Ottens enter the main draw after their won their match over Brazil's Vitoria De Souza Rodriguez/Victoria Lopes Pereira Tosta 2-0, (21-18, 23-21).
The final spot was awarded to Spain's Maria Belen Carro Marquez de Acuna/Tania Moreno Matveeva, who took down two Lithuanian squads. First they took out Agneiska Paskevic/Jekaterina Kovalskaja 2-1, (18-21, 21-10, 15-10) followed by Ieva Vasiliauskaite/Irina Zobnina 2-0, (21-14, 21-18).