Courtesy: Houston Athletics
HOUSTON — Head Coach Kaddie Platt announced the additions of Alexis Cheatum and Kelsey Childers to the University of Houston Volleyball program on Thursday morning.
"We are excited to have Alexis and Kelsey join our family," Platt said. "Both are proven players at the high school level and bring extremely great work ethics. My staff and I look forward to getting them on campus."
Cheatum and Childers join Kendall Haywood and Jordan Russell as commitments for 2018.
Alexis Cheatum
5-11 | OH/RS | Cedar Park HS/Austin Juniors | Austin, Texas
Cheatum is a 5-11 outside/right-side hitter from Austin, where she was a four-year letterwinner at Cedar Park High School and played club for Austin Juniors.
Cheatum helped the Timberwolves to four district titles and playoff berths. She was a three-time all-district selection, serving as Team Co-Captain as a junior and Team Captain as a senior.
Cheatum finished her prep campaign with 984 kills, 357 digs and 75 aces.
Playing for Austin Juniors, Cheatum finished third at the 2014 USAV Nationals and second in 2017.
Platt on Cheatum
"Alexis has an energy about her that is infectious on the court. When you watch her play, you see she leaves everything out there. She's used to carrying a big work load as a pin hitter, and we look forward to watching her game develop at the collegiate level."
Kelsey Childers
5-8 | S/DS | Clear Creek HS/Absolute Volleyball Academy of Texas | League City, Texas
Childers is a 5-8 setter/defensive specialist from League City, Texas, where she was a four-year letterwinner at Clear Creek High School and played club for Absolute Volleyball Academy of Texas.
During her junior season, she helped CCHS to a 47-5 record and Texas UIL 6A State Championship runner-up finish. Childers ended the year with 1,688 assists, 397 digs, 54 blocks and 43 aces.
As a senior, she was named Galveston County Setter of the Year, First-Team All-Galveston County and a TAVC 6A All-State First Team honoree. Childers finished her senior campaign with 1,103 assists, 358 digs and 73 kills.
On Sept. 19, 2017, she was named the Houston Chronicle Athlete of the Week after totaling 72 assists and 21 digs in wins over Clear Brook High School and Alvin High School to open district play.
For her career, Cheatum was a three-time All-District 24-6A selection. Also excelling in the classroom, she was named Academic All-District 24-6A.
Platt on Childers
"Kelsey is a team player who comes in with experience as both a setter and defensive specialist. She played in some really big matches in high school and helped her team to great things. We expect her to do the same here."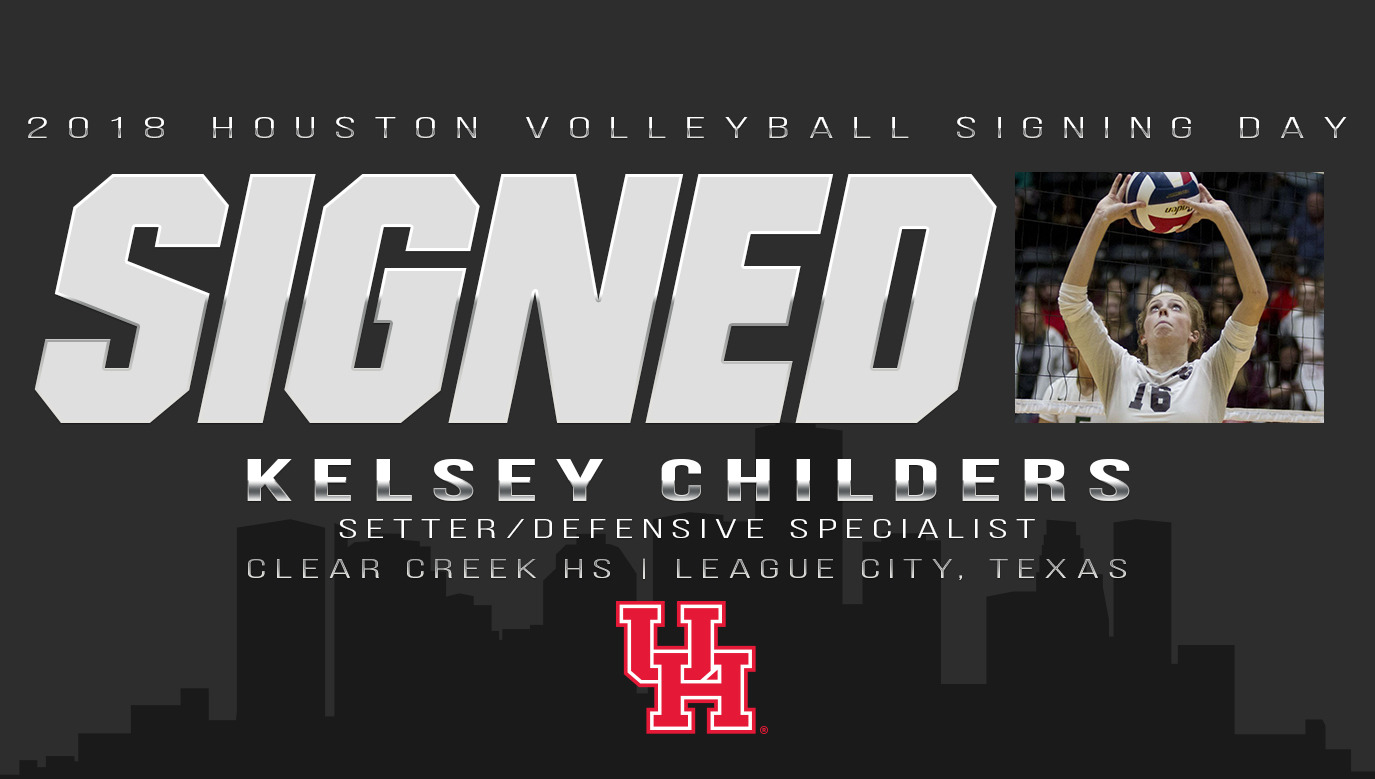 2018 Recruiting Class
Name                             Ht.       Pos.         High School/Club Team                                             Hometown
Alexis Cheatum         5-11   OH/RS      Cedar Park HS/Austin Juniors                                   Austin, Texas
Kelsey Childers          5-8       S/DS       Clear Creek HS/AVA Texas                                           League City, Texas
Kendall Haywood      6-1        MB         Goose Creek Memorial HS/Willowbrook VC         Baytown, Texas
Jordan Russell            6-2        OH          Clear Brooke HS/GVCA                                                 Friendswood, Texas