Two matches were played in Kyoto's Shimadzu Arena on Sunday in the Japanese Men's V.League Final 6, Panasonic Panthers vs. JTEKT Stings and Toray Arrows vs. Toyota Gosei Trefuerza.
Panasonic was looking to maintain first place in the Final 6 with a win, while the Stings were looking for some momentum to move up in the standings. Both teams were split at one set all as both teams won their set by the minimum two points. The third set went to extra points, but the Panthers took it 30-28. However, the Panthers decided to put their foot on the gas and dominated the fourth 25-12 to win the match 3-1. Panasonic's three Musketeers, Michal Kubiak 22 (17k), Kunihiro Shimzu 22 (18k, 3b, 1a) and Tatsuya Fukuzawa 18 (all kills), led the way for the Panthers as they have all season. Kubiak with five aces was named the man of the match as you can see with the Veli stuffed animal above. Yuji Nishida and Matey Kaziyski both had over 20 points with 25 (23k, 2b) and 20 (16k, 4a) respectively in the loss for JTEKT.
In the other match of the day, Toyota and Toray went five sets with their respective foreigners Igor Omrcen and Gavin Schmitt playing big roles in the match. Toyota jumped out to a 2-0 sets lead and looked like a sweep. However, the Arrows fought hard to win the third and fourth sets to even the match. In the fifth, Toray jumped to a quick lead at 3-0, but Toyota eventually evened it at 6-6. Toray eeked out a late two point lead at 13-11, which they kept to win the set 15-13 and the match 3-2 in a comeback. The win vaulted Toray into third place with 5 points in the Final 6 as the JT Thunders did not play and have 4 points. Croatian Igor Omrcen had 40 points (33k, 4b, 3a) in the loss for Toyota which led all scorers. Canadian Gavin Schmitt for Toray tried to keep pace with 35 (31k, 1b, 3a) i nthe win.
Final 6 Results for February 11, 2018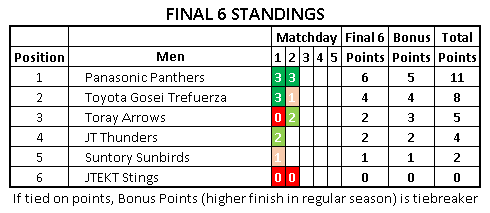 Schedule for February 17, 2018