On the final day of the regular season in the Japanese men's V.League, the Toray Arrows and JT Thunders would decide who would finish third in the regular season and the Suntory Sunbirds and JTEKT Stings would determine fifth place.
The Thunders and Arrows started their matches at the same time. JT met FC Tokyo, while Toray met the Toyota Gosei Trefuerza. The Thunders had to win to give themselves a chance at third place, while Toray held the wins tiebreaker if the teams tied on points. The Thunders dominated FC Tokyo in blocking (+9), kills (+17) and aces (+4) in the three set match.  JT win 3-0 in a sweep which put them at 37 points, while Toray started the day at 35 points. Thomas Edgar for JT was incredible with 23 points (16k, 3b) with 4 aces included. His teammate Kenta Nakajima had 5 blocks for the Thunders.
Toray won the first set easily 25-13 against the Trefuerza, who played mainly their backups in the match. Toyota had clinched second place on Saturday and rested their stars. Toray also took the second set and it looked like it would end in three. However, Toyota fought back in the third and pushed the Arrows hard in the fourth set, which went to extra points. The Arrows came from behind late in the fourth to win 3-1 over Toyota. Trefuerza's Shuzo Yamada led all scorers with 26, while Canadian Gavin Schmitt had 25 points (20k), including five blocks in the Toray win. Toray finishes in third place with 38 points and the Thunders in fourth at 37.
Moving over to the battle for fifth place, JTEKT Stings met the Panasonic Panthers. Panasonic had rested their stars on Saturday, but they were all back on Sunday, which meant that the Stings were in trouble. The Panthers three musketeers of Kunihiro Shimizu, Michal Kubiak and Tatsuya Fukuzawa were dominate in the 3-0 win.The Panthers were +14 in kills against the Stings. Shimizu led all scorers with 16 (15k, 1b), while Kubiak had 13, all kills. Bulgarian Matey Kaziyski had 12 in the loss for the Stings. The loss by the Stings guaranteed that Suntory would finish in fifth place.
Suntory met Sakai Blazers in a five set match. Both teams split the first two sets and Suntory won the third set 25-21. With the JTEKT result happening during the match, it was a match about pride with both teams regular season positions decided. Sakai took it upon themselves to win the fourth and fifth sets to win the match 3-2 to end their season on a high. Cuban Yadrian Escobar for Suntory led all scorers with 34 points (31k, 1b, 2a). Wallace Martins 21 (20k, 1a) and Shunsuke Chijiki 20 (15k, 1b, 4a) for the Blazers contributed greatly in the win. Their teammate Yoshihito Matsumoto was a wall for Sakai with 7 blocks in the match.
Here is how the standings will look at the beginning Final 6, that will begin on February 10, 2018: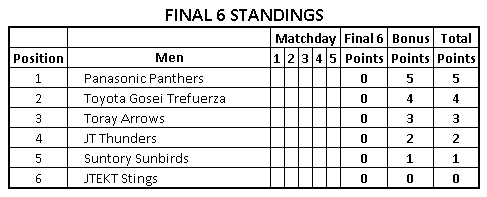 Matchday 21 Results, January 28, 2018
Statistical Leaders for Regular Season
Best Scorer (Kills+Blocks+Aces): Thomas Edgar (JT Thunders) 645 points (568k, 40b, 37a)
Best Kill Percentage: Hideyuki Kuriyama (FC Tokyo) 58.9%
Best Blocker (per set): Kenji Shirawsawa (Panasonic Panthers) 0.76
Best Server (Efficiency Calculation): Matey Kaziyski (JTEKT Stings) 16.1%
Best Serve Receiver (Efficiency Calculation): Koichiro Koga (Toyota Gosei Trefuerza) 70.4%
Final Standings