On the final day of the regular season, there were only two questions that remained in the Japanese women's V.League. One, "Would the Hisamitsu Springs Finish 21-0?" The other was "Which team would finish in fifth place?"
Hisamitsu met the Toray Arrows in a potentially historic match. Hisamitsu with the win would be the first team since 1999-2000, NEC Red Rockets to finish a regular season perfect without a loss. Toray with a win would have finished the regular season in fifth place. Hisamitsu got out to early leads in all three sets in the match and the Arrows tried to catch up, but never could. Even on long rallies, Toray just could not put the ball to the floor. Hisamitsu sweeps the match 3-0 and the regular season 21-0, perfect. Now the Springs need to finish the Final 6 and potentially Final matches with wins to match the 1999-2000 Red Rockets who went 21-0, including their final round wins. Yuka Imamura for the Springs had 16 points, all kills, to lead all scorers. Foluke Akinradewo for Hisamitsu was not her blocking self, but she did dominate from the service line with 5 aces. Add in 8 kills and a block for a total of 14 in the win. Mari Horikawa was the best scorer for Toray with 10 (7k, 1b, 2a) and the only player to reach double digits for the Arrows. Toray needed NEC to lose in less than five sets to stay in fifth place.
NEC Red Rockets met JT Marvelous in the other match of the day. JT had nothing to play for other than pride as they were firmly in second place before the match. NEC with two set wins would jump over Toray into fifth place. The Red Rockets too a tight first set 25-23 to put them within one set win of clinching fifth place. JT came back to take the next two sets. The third even had set points for NEC, but the Marvelous held them off. The Red Rockets took a 5-0 lead in the fourth set, but nearly gave all of it back, yet held on to win the set and get one point to put them in fifth place ahead of Toray. The Red Rockets then decided we want to win the match and got an early lead and extended it to coast to the win 3-2. Brankica Mihajlovic of JT finished with 34 points (32k, 2b) to lead all scorers. Yuka Kanasugi used her four aces to win the best server regular season title for JT. Sarina Koga 23 (21k, 2b) and Mizuki Yanagita 21, all kills, were the forces leading NEC to the win. Haruyo Shimamura was great in the middle for the Red Rockets with 4 blocks to go along with 11 kills.
Here is how the standings will look at the beginning Final 6, that will begin on February 10, 2018: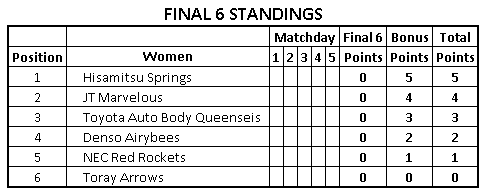 Results for January 28, 2018
Statistical Leaders for Regular Season
Final Standings