2017 Ohio Valley Conference Championship Tournament
November 16th-18th, 2017
Austin Peay State University, Clarksville, Tennessee
Live Video || OVC Digital Network
The 2017 Ohio Valley Conference Championship Tournament will be hosted in Clarksville, Tennessee, on the campus of Austin Peay State University, for just the second time ever, and the first since 1992. Austin Peay, who have been members of the conference since 1962, earned that right via a 14-2 regular season conference record, earningg the regular-season conference title. The Governors have a 27-5 record this year overall, and have a few decent resume wins, including a 3-0 sweep of Missouri.
The conference has undergone a little bit of a shuffle this season. Murray State, who won the last 3 OVC regular season titles, and 2 of the last 3 tournament titles, slipped to just 3rd this year, lagging behind Austin Peay and Southern Illinois – Edwardsville (SIUE).
But Murray State is still a dangerous team – they're the only ones who beat both SIUE and Austin Peay this year. They split with SIUE (both 3-2 matches) and swept Austin Peay 3-0. SIUE has also lost to Austin Peay twice, by 3-2 scores, including most recently on October 28th.
That makes for a circular selection that leaves this tournament hard to predict. Eastern Kentucky, who beat Austin Peay 3-1, and then lost to SIUE 3-2, in less than a week, further muddles the conversation.
Prediction
We think there will be at least one significant upset in the late stages of the tournament – there's a lot of parity in the OVC. None of the conference's teams have big offenses (Austin Peay leads the OVC hitting just .233). SIUE has shown the best combination of offense and defense, ranking 2nd in the league in offensive hitting percentage (.222) and leading the league in opponents' percentage (.167).
Austin Peay and Murray State have the best service numbers in the conference, averaging 1.55 and 1.53/set, respectively. They have very different serve balance, though – 89 of Peay's 179 this season (49.7%) come from two players: Christina White and Brooke Moore (the latter of whom is a freshman). That means that if Peay can catch an opponent on the wrong rotation, they can get on a role. Murray State has more balance to that service game and more weapons to lean on.
My picks? I think Murray State knocks off SIUE in one semi-final, while Austin Peay beats Eastern Kentucky in the other. Then Murray State relies on their experience and pedigree to beat Peay for the 2nd time this season, 3-2, in the championship.
Bracket
2017 Volleyball Bracket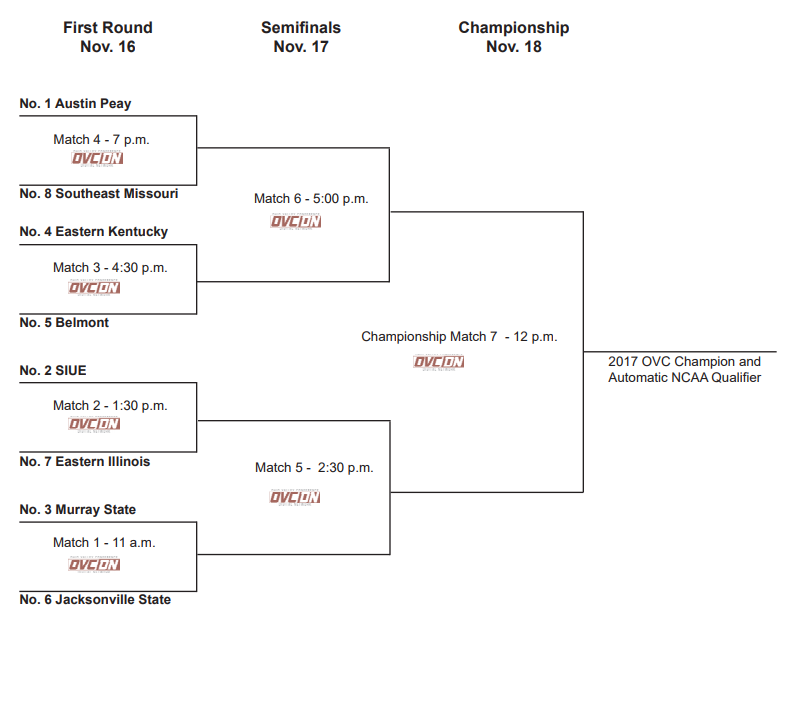 Games/Live Video Table:
Schedule/Results
First Round: Thursday, November 16, 2017
Match 1: #3 Murray State vs. #6 Jacksonville State, 11:00 a.m.
Recap | Box Score | Live Video | Live Stats
Match 2: #2 SIUE vs. #7 Eastern Illinois, 1:30 p.m.
Recap | Box Score | Live Video | Live Stats
Match 3: #4 Eastern Kentucky vs. #5 Belmont, 4:30 p.m.
Recap | Box Score | Live Video | Live Stats
Match 4: #1 Austin Peay vs. #8 Southeast Missouri, 7:00 p.m.
Recap | Box Score | Live Video | Live Stats
Semifinals: Friday, November 17, 2017
Match 5: Winner of Match 1 vs. Winner of Match 2, 2:30 p.m.
Recap | Box Score | Live Video | Live Stats
Match 6:  Winner of Match 3 vs. Winner of Match 4, 5:00 p.m.
Recap | Box Score | Live Video | Live Stats
Championship: Saturday, November 18, 2017
Match 7: Semifinal Winners, 12:00 p.m.
Recap | Box Score | Live Video | Live Stats