2017 U21 WORLD BEACH CHAMPIONSHIPS
July 11-14
Nanjing, China
The Round of 16 has ended at the U21 World Beach Championships with eight teams remaining in both genders. The quarterfinal and semifinal rounds will be played on July 15 with the finals for both men's and women's play taking place on July 16.
Women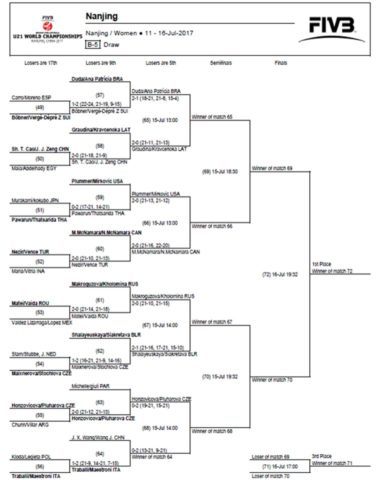 Team USA's Kathryn Plummer/Milica Mirkovic continue to dominate the women's side with a quick 2-0, (21-13, 21-12) win over Thailand's Pawarun Chanthawichai/Thatsarida Singchuea.
Plummer/Mirkovic advanced directly to the round of 16 after winning all three of their pool play matches, where they met the 2017 U21 Asian Championship winners. The pure strength and height advantage of Plummer helped to give the American's the win. The pair will now take on Canada's Megan McNamara/Nicole McNamara in the quarterfinals.
Other teams' advancing to the quarterfinal round are Brazil's Eduarda 'Duda'  Santos Lisboa/Ana Patricia Silva Ramos, Russia's Nadezda Makroguzova/Svetlana Kholomina, Latvia's Tina Graudina/Anastasija Kravcenoka, Italy's Gaia Traballi/Ester Maestroni, the Czech Republic's Natalie Honzovicova/Tereza Pluharova and Belarus' Viktoryia Shalayeuskaya/Viktoryia Siakretava.
Men
Latvia's Kristaps Smits/Mihails Samoilovs are heading to the men's quarterfinals after taking down Iran's Alireza Aghajanighasab/Javad Firouzpourbandpei 2-1, (12-21, 21-11, 15-9). The Iranians dominated the first set, but the Latvians quickly reversed the results to force a third set, in which the Latvians used a powerful attack to take down the tough Iranian team 15-9.
Other teams advancing to the quarterfinals are Brazil's Adrielson Dos Santos Silva/Renato Andrew Lima de Carvalho, Brazil's Gabriel Heilborn Gouveia/Rafael Jose Mendonca de Queiroz, Russians Aleksandr Kramarenko/Vasilii Ivanov, China's Eraili Nu/Weiming Liu, Spain's Huerta/Jimenez, Mexico's Gaxiola/Cardenas and Austria's Kindl/Klaffinger.