The 2017 FIVB Volleyball World Grand Champions Cup is set to start on September 5 at the Tokyo's Metropolitan Gymnasium.
The event is taking place in the city where the 2020 Olympics will occur. Brazil is the defending champions in both the men's and women's competitions. The Brazilian women are the most successful team in the World Grand Champions Cup women's competition after winning in 2005 and 2013.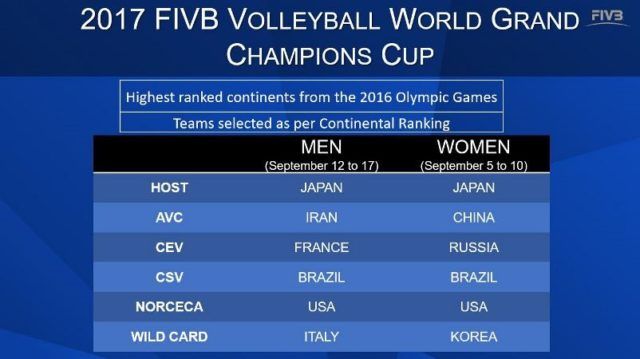 Brazilian dominance is even more seen on the men's side, where the men have won four of the six editions of the competition so far, including the past three.
In a word from the Brazilian federation, "We would obviously love to continue this series."
Both the men and women Brazilian teams are heading to the competition stronger than ever. The men's squad are looking to defend this Olympic victory in Rio, while the women are looking to avenge their quarterfinal loss to eventual gold medalists, China.
Alongside thewomens favorites, Brazil and China, Olympic bronze medalists and world #2 USA are also in good standing to take the event. The other three teams in the field are world rank #5 and European champions Russia, hosts Japan (WR 6) and the wildcard entry Korea (WR 10).
The men's side will feature an equally impressive line-up. Olympic champions, Brazil will look to claim their fourth consecutive title. world rank #4 Italy will join the field as the wildcard choice. European champions, France (WR 9) make their debut to the competition against host Japan (WR 14), Iran (WR 7) and Olympic bronze medalist USA (WR 2).
The format of the tournament is that of a round robin, meaning that each team will face each other to determine the victor.
The Olympic city of Tokyo will host the event, starting with the women on September 5-6 at Tokyo's Metropolitan Gymnasium to Nagoya from September 8-10, where the matches are to be played at Nippongaishi Hall. The men's competition will start shortly after the women, where Nippongaishi Hall will host the first two days of the competition on September 12-13. The remaining days of the tournament will be played at the Osaka Municipal Center Gymnasium from September 15-17.
The 2017 World Grand Champions Cup will be the seventh edition of the FIVB's quadrennial event for men's and women's national teams and the final playing day of the FIVB's 2017 indoor volleyball calendar.
World Grand Champions Cup winners
Men:
1993: Italy
1997: Brazil
2001: Cuba
2005: Brazil
2009: Brazil
2013: Brazil
Women:
1993: Cuba
1997: Russia
2001: China
2005: Brazil
2009: Italy
2013: Brazil