2018 MONTREUX VOLLEY MASTERS
Montreux, Switzerland
4–9 September
On Friday in Montreux, Switzerland, the preliminary rounds wrapped up with 2 spots in the semi-finals still up-for-grabs in Pool B, while the lone match in Pool A was only determinant of the order of seeding.
Turkey swept the hosts Switzerland to fisnish preliminary play 3-0 and atop Pool A – making them the only team to win all 3 of their preliminary matches (with a 9-1 sets record). Switzerland, with the loss, went 0-9 in sets.
In Pool B, Russia handed Poland their first loss of the tournament with a 3-0 sweep, which, after a 3-0 sweep by Brazil over Cameroon was enough to knock Poland out of the tournament on tie-breakers. Poland would have needed a win over Russia, or a Brazilian loss, to advance on the set-ratio tie-breaker, as they were unable to lose and catch Russia on that 3rd tie-breaker.
Semi-Final Bracket (Saturday)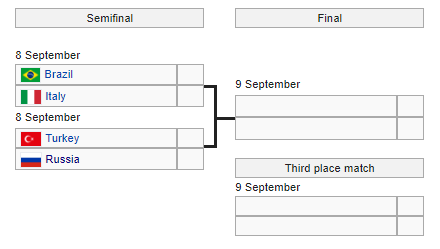 Turkey def. Switzerland 3-0 (25-21, 25-15, 25-22)
In spite of Switzerland presenting their best front so far of the tournament, they were overwhelmed by the Nations League runner-up Turkey in the first match of Friday.
Turkey out-blocked Switzerland 13-5, including 3 each from Ebrar Karakurt, Seyma Ercan, Beyza Arici, and Cagla Akin. Turkey also had a 12-4 advantage from the service line, including 6 in 17 attempts from Karakurt. The 18-year old opposite Karakurt scored 22 points, with 9 of them coming from elsewhere besides kills, though she also led the team with 13 of those on 32 swings.
Turkey did give up 25 points on errors, which they'll have to clean up before facing Russia in the semi-final.
Switzerland was led by 9 points from Korina Perkovac, who served in only a very-limited reserve role in Switzerland's first two matches. On Friday, she came into the match early in relief of Livia Zaugg, and the 19-year old Perkovac proceeded to put up 9 points, including 7 kills on 13 swings (53.8%). The rest of the team hit just 26.2% combined.
Russia def. Poland 3-0 (25-16, 27-25, 25-18)
All Russia needed was a win, and they did so in style, with a 3-0 sweep over Poland, who was previously undefeated in the tournament, but without the set ratio needed to advance on anything but a win.
Nataliya Goncharova led Russia in points for the 3rd-straight match with her highest scoring output of the tournament at 21 points. That included 19 points on 41 swings, for a 46% success rate. Her 45% of her team's swing is about as high as you'll see at this level of volleyball, and Russia will continue to rely on her with Tatiana Kosheleva on the bench for this summer's World Championships due to injury. Irina Fesitova had 4 blocks as part of her 5-point output in the match.
Tatiana Romanova started the match at setter, but captain Evgenia Startseva played the last two sets. This is significant as part of a setter controversy brewing in Russia: Ekaterina Pankova, daughter of Russian head coach Vadin Pankov, wasn't chosen for the roster, and the aforementioned Gongharova voiced some frustration with the constant changing of setters so close to the World Championships.
Russia's biggest feat was keeping Polish opposite Malwina Smarzek in check. After a 31-point output in Poland's last match, she was held to just 11 on Friday, all on kills, and with 33 swings.
Brazil def. Cameroon 3-0 (25-11, 25-15, 25-13)
Brazil went deep into their bench, using all-but-1 member off their 14-woman roster (that one being the captain Natalia) in a 3-set sweep of Cameroon. Ade led all players with 11 points, followed by Rosamaria with 10 – the only two players to play (effectively) the entire match.
Brazil out-blocked Cameroon 12-2, and out-served them 7 aces to 1, led by 3 each from Rosamaria and Roberta.
Saturday Schedule
Semifinal 1 – China vs. Poland, 13:00 local time (7:00 US Eastern)
5th place match – Cameroon vs. Switzerland, 15:30 local time (9:30 US Eastern)
Semifinal 2 – Brazil vs. Italy, 18:30 local time (12:30 US Eastern)