U Sports Women's Championships
UBC def. Alberta 3-1, (25-22, 25-20, 13-25, 25-20)
Mattamy Athletic Centre
UBC took home their 11th national title in program history over Canada West rivals from Alberta in four sets in the U SPORTS championship finals.
The Thunderbirds won their first title since 2013, lead by the Championship MVP Danielle Brisebois, who recorded 20 kills on a .356 hitting percentage, adding eight digs to her tally.
UBC fell behind early in the first set, 6-2 but battled back to take the lead before the first technical timeout. The Thunderbirds were able to go on a 7-2 run, propelled by Maggie Li, who put down two kills and a block, boasting the team to a 16-14 lead. Victoria Behie gave the Thunderbirds four straight points to take a 20-15 lead late, with UBC not letting go of their lead to take the first set 25-22.
The beginning of the second was a trade-off of points by each team, before a string of kills and aces took the Thunderbirds to a 16-9 advantage over Alberta. The Panda's were able to bring the score within five, shifting some momentum, but were unable to keep it going, dropping the second 25-20 and giving UBC the 2-0 set advantage.
The third set was back and forth to start. With the score tied at 9-9, the Pandas were able to swing all the momentu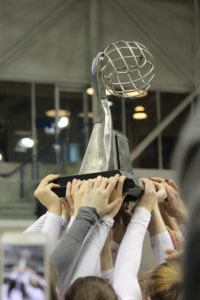 m their way to take a 16-11 lead, one that they wouldn't not give up the remainder of the set, as UBC took the third in a dominate 25-13 set.
The fourth started with Li serving four aces, that began a Thunderbird 8-0 run. The Pandas were able to bring the score within one point and eventually taking a one point lead at the technical timeout. UBC was able to take control of the st again, bringing the team to a 25-20 victory in the fourth and the championship.
In the past two decades, the Thunderbirds and Pandas have met five times in the finals  with Alberta taking the first two in 1997 and 1999, while UBC have taken the last three in 2012, 2013 and 2017.
Leading the Thunderbirds was Brisbois with 20 kills, eight digs and four blocks while Li added another 11 kills on a .455 hitting percentage, four aces and a match-best dive blocks. Setter Alessandra Gentile dished out 37 assists and 16 digs for a double-double. In the back court, Samantha Patko picked up 16 digs and Juliana Kaufman added another 13.
For Alberta, three players recorded double-doubles – setter Mariah Walsh handed out 43 assists and 10 digs, Meg Cassault put down 14 kills and 10 digs while Kacey Otto added 10 kills and 16 digs.
CHAMPIONSHIP ALL-STARS
Championship MVP
Danielle Brisebois (UBC)
All-Stars
Danielle Brisebois (UBC)
Maggie Li (UBC)
Alessandra Gentile (UBC)
Meg Casault (Alberta)
Kacey Otto (Alberta)
Sophie Carpentier (Trinity Western)
Marie-Alex Belanger (Montreal)
R.W. Pugh Fair Play Award
Abby Czenze (Dalhousie)