2017 PAC-12 CHAMPIONSHIPS
April 27-28, 2017 (team); April 28-29 (pairs)
Tucson, Arizona
The first day of the Pac-12 Beach Volleyball Championships have concluded with USC and UCLA remaining unbeaten thus far.
The #1 USC Trojans and #2 UCLA Bruins will square off against each other in the semifinals at 9 AM PT, while #3 seeded Arizona and #7 seeded Washington face off to advance to the semis today. The loser of USC and UCLA will move to the loser bracket to face the winner of Arizona and Washington.
The championship match will be at 1 PM PT, followed by the beginning of the pair championship bracket at 3 PM PT.
Below is the updated bracket after day one: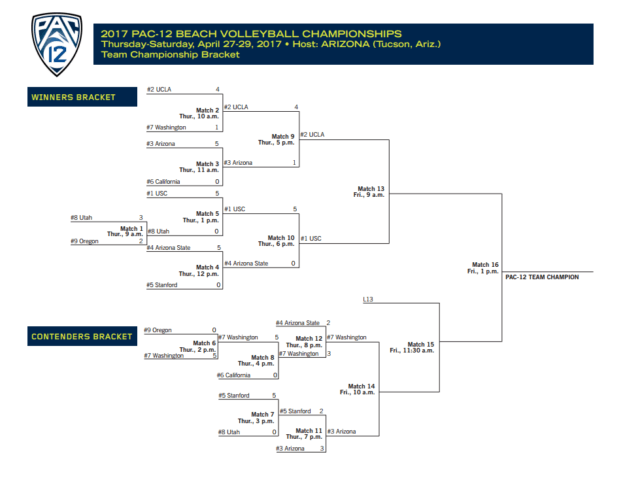 The top-seeded Trojans cruised to the semifinal round with 5-0 victories over #8 Utah and #4 Arizona State – not dropping a set all day.
The #2 Bruins took down #7 Washington and #3 Arizona by scores of 4-1. The two teams each had twin sister squads facing off against each other in UCLA's Nicole and Megan McNamara and Arizona's McKenna and Madison Witt – the McNamara twins were able to down the Witt sisters 2-0, (21-19, 21-18).
#7 Washington put themselves back in contention of the Pac-12 title after losing to UCLA in the first round. The Huskies rolled to a 5-0 win over #9 Oregon, then crushed #6 California 5-0. The final match for the Huskies on the day over #4 Arizona State was a close call, with a Washington 3-2 victory. The match came down to the #4 spot of UW's Melanie Wade and Shayne McPherson and ASU's Kassidy Pickrell and Mia Rivera. The eliminatation match went to three sets with UW coming out on top 2-1, (17-21, 21-14, 15-12).
#3 seeded Arizona was able to pick up a 5-0 win over #6 California and a tight 3-2 defeat over #5 Stanford.
After the first day California, Stanford, Utah, Oregon and Arizona State don't advance on in the tournament.