Learn more from Reid at www.reids-workouts.com.
I like adding ladder drills to the end of a warm up before starting volleyball practice. Ladder drills get the feet moving fast and really helps activate your fast twitch muscle fibers. This will get your body primed and ready to be moving powerfully for the start of practice.
I also find the athletes enter practice with increased focus after performing some high intensity foot work.
Here is three ladder drills that you can start adding to the end of your warm up:
2 in 1 out

1-2 forward, 1-2 back

High Knees to Sprint
Perform anywhere between 2 to 4 sets of each ladder drill (depending on how much time you have), and rest for 20 seconds between each set.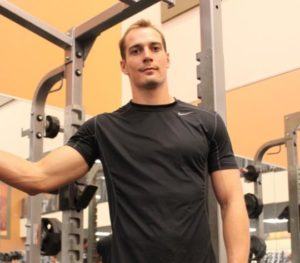 Reid Hall is a former professional volleyball player and coach who strives to work my hardest to help others achieve their fitness goals. As an athlete and elite level strength and conditioning coach, he knows the proper conditioning and strength training required to succeed. His athletic and academic background has provided him with the knowledge and skills to help you reach and sustain your ultimate self.