Press Release courtesy of Big Ten Conference.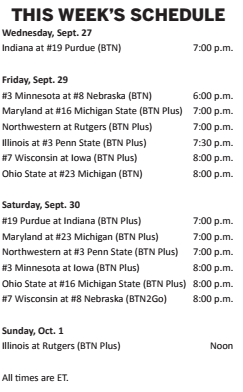 • Conference play continues this weekend with all 14 teams in action.  Three matches will be carried on BTN, with the remaining matches streaming on BTN Plus.
• Seven Big Ten programs earned spots in the latest AVCA coaches poll, with four teams ranked among the top 10: No. 3 Minnesota, No. 3 Penn State, No. 7 Wisconsin, No. 8 Nebraska, No. 16 Michigan State, No. 18 Purdue and No. 23 Michigan. Illinois and Ohio State are all receiving votes in the poll.
• Nebraska's Annika Albrecht was named the Sports Imports/AVCA Division I National Player of the Week, after earning her first career Big Ten Player of the Week accolade on Monday. The senior outside hitter guided the Huskers to a pair of road sweeps to begin Big Ten play last weekend. Albrecht averaged 5.17 kills and 1.67 digs per set while hitting .400.
• Big Ten teams currently occupy four of the top 10 positions on the national team hitting percentage list, including the top two spots. Penn State leads the country with a .349 hitting percentage, followed by Purdue (.341) in second and Wisconsin (.325) in sixth. Illinois rounds out the list at No. 8 in the NCAA, boasting a .311 team hitting percentage.
• Penn State's Abby Detering is one of six standouts in the NCAA this season to record a triple-double. In the Nittany Lions' 3-1 victory over then top-ranked Stanford on Sept. 1, Detering posted 23 assists, while adding 11 kills and 10 digs.
• Michigan State head coach Cathy George earned her 600th career win on Sept. 1. George became the third Big Ten head coach to amass 600 wins, joining Penn State's Russ Rose (1,224) and Nebraska's John Cook (638). Rose currently ranks second among active Division I coaches in career victories, while Cook and George rank 16th and 20th, respectively.
• Big Ten students currently occupy five of the top 15 spots nationally in hitting percentage, including three of the top five. Maryland's Hailey Murray, a 2016 Academic All-Big Ten selection, leads the Big Ten and the nation with a .512 hitting percentage, while Penn State's Academic All-American Haleigh Washington ranks third, hitting at a clip of .495. Illinois' Academic All-Big Ten honoree Ali Bastianelli ranks fourth (.491), Wisconsin's Dana Rettke ranks seventh (.453), and Wisconsin's Tionna Williams rounds out the list at No. 11 nationally with a mark of .442.
• Based on average attendance, the Big Ten currently has five of the nation's top 10 teams. Nebraska leads the nation, averaging 8,085 fans per contest, Wisconsin is third with 5,948, Minnesota is fourth at 4,812, Illinois is sixth with 3,311, while Penn State checks in at No. 7 with 3,305 patrons per contest.
• Since the 2012 season, four Big Ten schools have been ranked No. 1 in the AVCA coaches poll a total of 43 weeks: Minnesota, Nebraska, Penn State and Wisconsin. During that span, the Nittany Lions have earned the top spot 21 times.
• The 2017 Big Ten volleyball television package features 36 contests, with 31 of those matches airing live on BTN, and highlighted by 10 doubleheaders. Five other matches will be carried live on ESPN network.