• All 14 Big Ten volleyball teams continue conference play this week with 13 matches set to air on either BTN or BTN Plus.
• Nebraska was unanimously voted No. 1 in the latest AVCA Volleyball Coaches Poll. Five additional Big Ten programs appear among the top 25: No. 2 Minnesota, No. 3 Wisconsin, No. 10 Penn State, No. 15 Michigan State and No. 17 Michigan. Illinois, Iowa, Ohio State and Purdue are receiving votes in the poll.
• Eleven Big Ten volleyball teams are rated among the top 55 of the NCAA RPI: No.1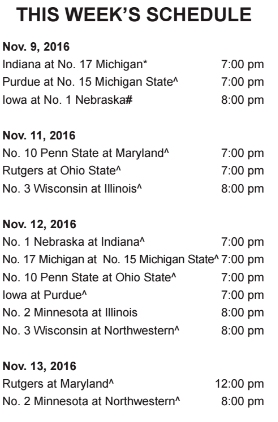 Wisconsin, No. 3 Nebraska, No. 4 Minnesota, No. 11 Michigan, No. 15 Michigan State, No. 19 Purdue, No. 22 Penn State, No. 30 Ohio State, No. 48 Indiana, No. 52 Illinois and No. 55 Iowa.
• Based on average attendance, the Big Ten has seven of the nation's top 10 teams. Nebraska leads the nation in attendance, averaging 8,206 fans per contest, while Wisconsin is third with 5,965 and Minnesota is fourth with 4,394. Penn State checks in at No. 5 with 3,672 patrons per match, while Michigan State ranks sixth with 2,801 and Illinois is seventh with 2,622 fans per contest. Purdue rounds out Big Ten programs in the top-10 in eighth, averaging 2,545 fans per match.
• Based on past opponents' winning percentage, Wisconsin has played the third-toughest schedule in the nation, while Purdue has played the fourth-toughest schedule. Minnesota is fifth on the list, Ohio State ranks eighth and Michigan is ninth.
• Illinois' Ali Bastianelli leads the nation with 163 total blocks. She also leads the nation with 1.77 blocks per set.
• Nebraska has limited its opponents to the seventh lowest hitting percentage in the nation, allowing opposing teams to hit at a clip of just .145. Penn State is 10th, allowing an opponents' hitting percentage of .151.
• Michigan State's Brooke Kranda ranks third nationally with 0.63 aces per set. She has knocked down a total of 38 service aces this season.
• Penn State's Haleigh Washington, a 2015 Academic All-American and 2015 Academic All-Big Ten selection, leads the conference in hitting percentage with a clip of .444 which also ranks second nationally.