2017 FIVB WORLD TOUR – POREC MAJOR
June 26 to July 2
Five-Star Event
The semifinals for the women in Porec has been set, with teams from Brazil, Canada, the Czech Republic and Switzerland competing for the top prize. The teams are playing for a cut of the $600,000 purse prize for the second five-star event of the 2017 season.
The semifinals and the finals will take place on July 1, with the winners moving on to the finals just hours after they finish semifinal play.
June 30 Results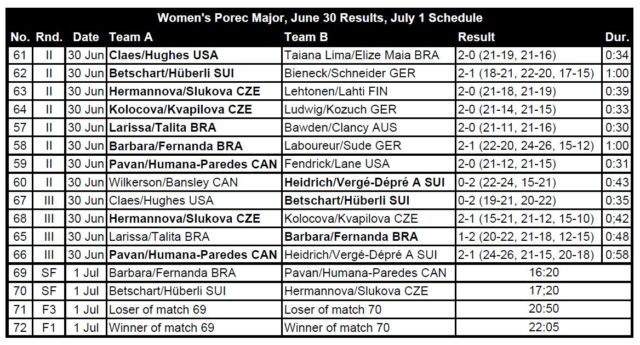 Brazil's Fernanda Alves/Barbara Seixas made their way to the final four with a win over Germany's Chantal Laboureur and Julie Sude in a three-set match 2-1, (22-20, 24-26, 15-12).
Sarah Pavan and Melissa Humana-Paredes from Canada took down the US's Lauren Fendrick and Lane Carico in a straight set sweep 2-0, (21-12, 21-15). They also took down Anouk Verge-Depre/Joana Heidrich in a tough three-set match 2-1, (24-26, 21-15, 20-18) securing their spot in the semifinals.
Barbora Hermannova/Marketa Slukova of the Czech Republic took down Riikka Lehtonen/Taru Lahti Liukkonen followed by fellow countrywomen, Kristyna Kolocova/Michala Kvapilova in a tough three-set battle to move on to the semifinals.
The final team to move on to the final four is Switzerland's Nina Betschart/Tanja Huberli who flew through Isabel Schneider/Victoria Bieneck of Germany and USA's Kelly Claes/Sara Hughes.
Semifinal Schedule
Alves/Seixas vs. Pavan/Humana-Paredes
Betschart/Huberli vs. Hermannova/Slukova