Courtesy: Colorado Athletics
BOULDER, Colo.  – Colorado volleyball head coach Jesse Mahoney has announced the addition of two athletes to the 2018 roster.
Taylor deProsse (Reno, Nev.) and Zoe Neverdowski (Houston, Texas) will both be freshmen in the fall and will join Jenna Ewert and Allie Moger, who will also be freshmen this upcoming season.
"We are very excited to have Taylor and Zoe join the Buff family," Mahoney said. "They are great students, elite players and will be excellent representatives of Colorado volleyball."
Bios for each are below:
Taylor deProsse, 5-10, Reno, Nevada/Northern Nevada Juniors
deProsse earned three letters during her time at Bishop Manogue Catholic High School and during her senior year was named to All-Region First Team and All-Conference First Team. She served as the team captain her senior season and helped her team to a 28-6 record, which included the regional championship. The Miners were also the region champions in 2015 and placed second at the state championship with a 35-7 mark.
She saw improvement every year in high school. As a sophomore, she recorded 36 digs and five aces, but as she earned more playing time, her stats increased. Her junior year, she recorded 152 digs and 24 aces, as well as a spot on the All-Conference Second Team.  In her senior campaign, deProsse recorded 318 digs and 49 aces.
deProsse competed for Northern Nevada Juniors club team and was on the team when qualified for junior nationals in 2017.
deProsse is the daughter of James and Ada deProsse and has two older siblings, Nicole and Evan. deProsse's mother coached Division I women's basketball for 20 years, and played both basketball and tennis at Colorado College. She was a 4.0 student in high school and earned academic all-state honors her junior and senior seasons. She plans to major in biochemistry or pre-medicine with plans to become a doctor.
Southern Methodist University, Texas Christian University and the University of Nevada all recruited deProsse, but she ultimately knew she belonged at CU. "I have always loved Colorado and Boulder," deProsse said. "When I received an offer to play for the Buffaloes I knew it was the right decision for me. In visiting the university, I fell in love with the campus, coaching staff and team."
Mahoney on deProsse
"Being a coach's kid, Taylor is a gym rat, which I love.  She's competitive – and as a libero/DS she can really fly around the court keeping the ball alive."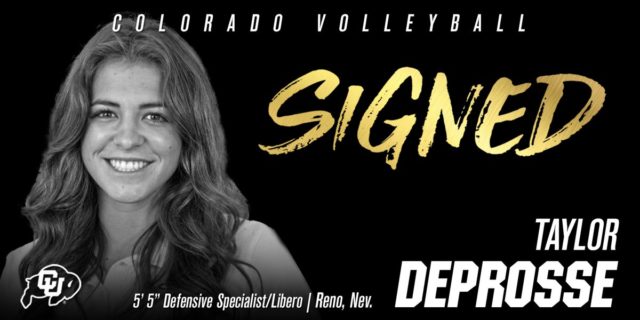 Zoe Neverdowski, 5-10, Houston, Texas/Texas Tornadoes
Neverdowski was named to the All-District 19-6A first team her sophomore, junior and senior year, and earned an honorable mention her freshman year during her time at James E. Taylor High School. As a sophomore, Neverdowksi broke her school's single-season kills record (415) as well as the single-season aces record (63). She finished her high school career with 1,060 kills, the Mustang's career record.
Neverdowski also competed on the Texas Tornadoes Volleyball Club, which placed third at the 2017 and 2018 USA Volleyball Nationals.
Neverdowski is the daughter of Chuck and Stephanie Neverdowksi, and has one older brother named Chuck, who joined the Navy and entered their nuclear power program. Neverdowski is coming to CU as an undeclared major, but has an interest in business.
Despite being recruited by several other universities, Neverdowksi says Colorado had everything she was looking for in a school. "Colorado seemed to fit every standard I had when searching for the perfect school," she said. "After my visit, I was completely set on CU because of the beautiful campus and strong work ethic of the team. CU truly has the perfect balance between outstanding athletics as well as academics, and I couldn't be happier."
Mahoney on Neverdowski
"As an all-around player, Zoe has a very developed skill-set and we will look for her to contribute early in her career as a passer and defender.  She may be on the smaller side as an attacker but has a fast arm and good vision – she finds ways to score points."