2017 FIVB WORLD TOUR – GSTAAD MAJOR
July 4 to July 9
Five-Star Event
Gstaad, Switzerland
Day two at the Gstaad Major has ended with the women's teams concluding pool play while the men finished with their day two matches.
Women
The women's side of the Gstaad Major has concluded the pool play phase of the tournament, with eight teams earning an automatic bye in the next round of play. The following teams will play in the "Lucky Losers" bracket, beginning the elimination portion of the tournament.
Winning their pools are – Taiana Lima/Elize Maia (Brazil), Kristina May/Taylor Pischke (Canada), Barbora Hermannova/Marketa Slukova (Czech Republic), Chantal Laboureur/Julia Sude (Germany), Joana Heidrich/Anouk Verge-Depre (Switzerland), Talita Antunes/Larissa Franca (Brazil), Agatha Bendnarczuk/Eduarda 'Duda' Santos Lisboa (Brazil) and Melissa Humana-Paredes/Sarah Pavan (Canada).
Humana-Paredes/Pavan are riding a high after winning last week's event in Porec, continuing their success through to the round of 32.
Check out below the schedule for day three for the women's side of the Gstaad Major: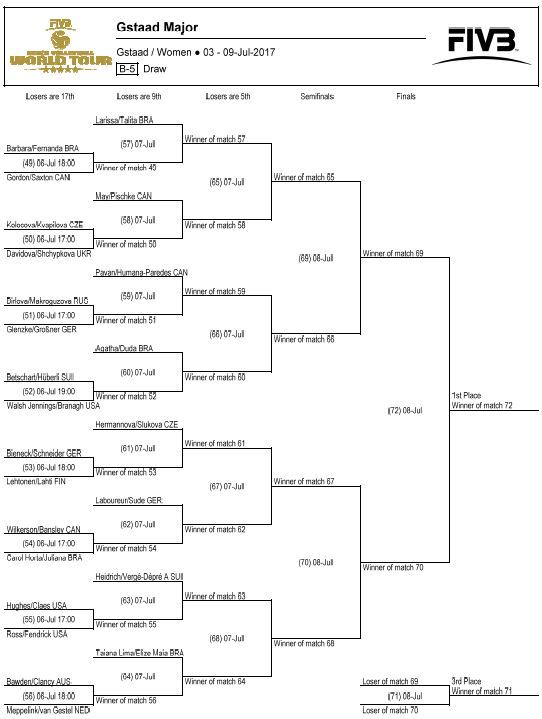 Men
The reigning 2016 Olympic champions Bruno Schmidt/Alison Cerutti struggled on day two of the Gstaad Major on the men's side of the tournament. The Brazilian pair lost their second-day match to Cuban's Nivaldo Diaz/Sergio Gonzalez 2-0, (21-13, 21-19). If the Cuban's win their third-day match against Canadian's Grant O'Forman/Michael Plantinga they will be able to win their pool.
Gustavo "Guto" Carvalhaes/Pedro Solberg's 10-day FIVB World Tour winning streak came to a close on day two, after losing to Lombardo Ontiveros/Juan Virgen of Mexico 2-0, (21-16, 21-19). Carvalhaes/Solberg had won 12 matches in a row before their loss today.
The pool play rounds of the tournament will conclude on July 7, before the elimination portion of the tournament will begin on July 8 while the semifinals and finals to be held on July 9.