2017 FIVB WORLD TOUR – POREC MAJOR
June 26 to July 2
Five-Star Event
Eight teams from seven countries collected pool titles at the Porec Major after three days of play. The teams are playing for their shot at a portion of the $600,000 purse prize. The elimination portion of the tournament will begin on Saturday, July 1.
Men's results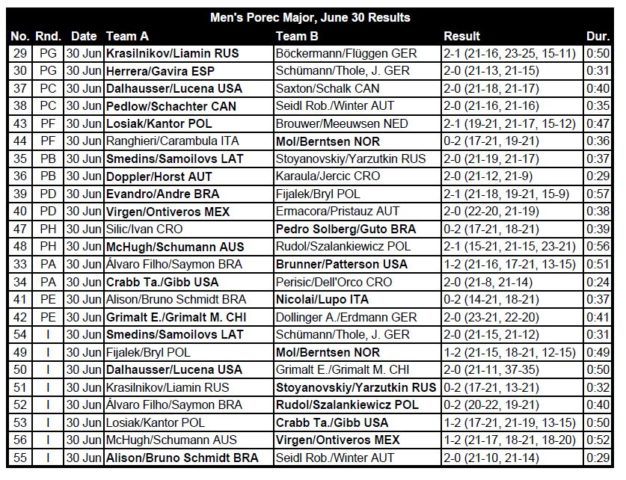 Two Brazilian squads were able to hold the helm of their pool, with Evandro Goncalves/Andre Loyola and Pedro Solberg/Gustavo 'Guto' Carvalhaes headlining Pool's D & G, respectively. From the Netherlands, Alexander Brouwer/Robert Meeuwsen took the top spot in Pool F, while Italy's Daniele Lupo and Paolo Nicolai avenged a previous setback to Alison Cerutti/Bruno Schmidt to take the number one position in Pool E.
Adrian Gavira/Pablo Herrera of Spain, Theo Brunner/Casey Patterson of the USA, Clemens Doppler/Alexander Horst of Austria and Sam Pedlow/Sam Schachter of Canada also won their respective pools.
In addition to the pool leaders, eight other teams from Austria, Brazil, Norway, Latvia, Mexico, Poland, Russia and the United States move on to the elimination rounds of the tournament.
Saturday's opening elimination matches
Doppler/Horst, Austria (No. 18-seed) vs. Mathias Berntsen/Anders Mol, Norway (27, Qualifying seed 13)
Solberg/Guto, Brazil (9, Q1) vs. Phil Dalhausser/Nick Lucena, United States (3)
Brouwer/Meeuwsen, Netherlands (11) vs. Oleg Stoyanovskiy/Artem Yarzutkin, Russia (15)
Evandro/Loyola, Brazil (4) vs. Maciej Rudol/Jakub Szalankiewicz, Poland (25, Q11)
Pedlow/Schachter, Canada (19) vs. Taylor Crabb/Jake Gibb, United States (17)
Nicolai/Lupo, Italy (12) vs. Aleksandrs Samoilovs/Janis Smedins, Latvia (2)
Herrera/Gavira, Spain (10) vs. Alison/Bruno, Brazil (5)
Brunner/Patterson, United States (16) vs. Lombardo Ontiveros/Juan Virgen, Mexico (20)
The men's tournament will conclude on Sunday, July 2 with the semifinals and finals taking place.