On March 24th, the Japanese V.LEAGUE announced the Leagues for the 2018-2019 season at the end of the Women's All Star Game. With the Japanese league moving to a licensing system, this would be the final breakdown of the licenses that each team had met.
In December 2017 the V.LEAGUE had announced for the men's V1 League (Top Division) that there would be a maximum of 10 teams. for the 2018-2018 the current eight Premier League teams would add the Challenge League 1's Oita Miyoshi Weisse Adler (2nd place) and VC Nagano Tridents (5th place) to their roster for the first V1 League. Oita and VC Nagano were the two best teams in the Challenge League 1 with S1 Licenses. Tsukuba United Sun Gaia were the only other team with an S1 License, but finished 7th and will play the V2 League (second division). With the new V1 League, each team will play their opponents three times before the playoffs (27 matches).
The V2 League will have a total of nine teams, taking the remaining Challenge League 1 teams (five teams), all with S2 Licenses and three teams from Challenge League 2. It is expected that in the V2 League that teams will face each other two (16 matches) or three times (24 matches) a season.
The V3 League (third division) will have six teams, all with S3 Licenses. The remaining six teams from Challenge League 2. Voreas Hokkaido and Veertien Mie were both expansion teams this past season in Challenge League 2, but finished first and third respectively in their first seasons. It is expected that the teams will face each other four times (20 matches) in V3.
At this time there is no information about promotion or relegation, but teams will need to pass the different license requirements to be promoted. Below is a breakdown of the different leagues.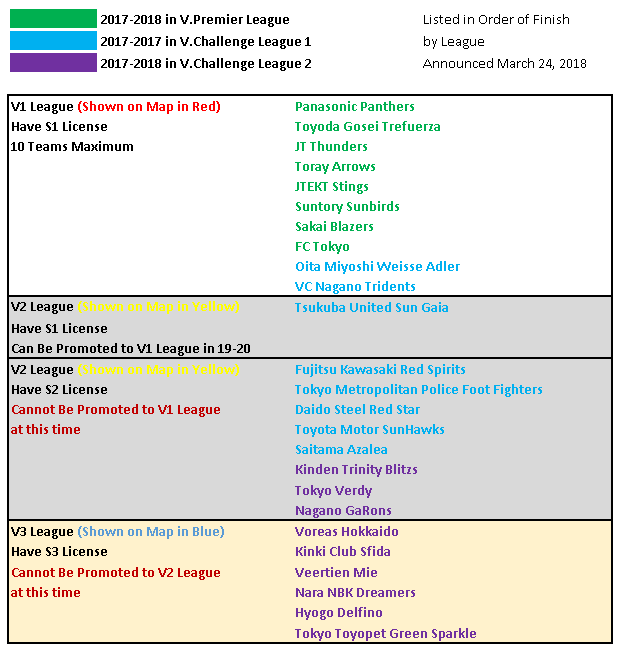 Below is a geographical map of the teams broke down by division.
[googlemaps https://www.google.com/maps/d/u/0/embed?mid=1jVYSNeNgYttNmTisegqYwAO7TRCbHRVh&w=640&h=480]