On the final day of the Final 6 Playoffs for the Japanese women's V.League, there was one spot left in the Final 3 (Semifinal) which would be fought between the third place Toyota Auto Body Queenseis and fourth place Denso Airybees. Toyota had a 1 point advantage and a second advantage in the tiebreaker based on their regular season finish if they finished tied with Denso on points. This combination gave the Queenseis a requirement of winning two sets to clinch their berth in the Final 3. While Denso in fourth place and 1 point behind, would need to defeat the Queenseis in less than five sets to reach to the Final 3.
Toyota jumps out to a four point in the first set and expanded it to six points at 15-9. Denso did get it back down to two points at 18-16, but the Queenseis went on a 7-4 run to win the set 25-20. This put Toyota within one set win of the Final 3. The second set was close throughout. The set was tied at 17, before a three point run by Toyota made it 20-17. However, Denso fought back to tie the set at 22. However, Toyota made a 3-0 run with two kills by their leading scorer Neriman Ozsoy to win the set 25-22, and clinch their spot in the Final 3. Both teams made a couple of changes to the rosters in the third and fourth sets, but the Queenseis went on to win the match 3-1. Neriman of the Queenseis finished with 29 points (all kills) as the top scorer in the match. While Nanaka Sakamoto of Denso led her team with 17 (16k, 1a) in the loss.
In the other match of the day, it was a battle for fifth place between the NEC Red Rockets and Toray Arrows. NEC jumped out to big leads in each set and Toray could not fight their way back into the match. NEC sweeps 3-0 to finish the season in fifth place. Kadie Rolfzen of Toray led all scorers with 15 points (13k, 1b, 1a), while Haruyo Shimamura led the Red Rockets with 14 (10k, 4b).
Next weekend Hisamitsu will face Toyota in the Final 3 (Semifinal) over two matches. The winner of the Final 3 will face JT Marvelous in the Final.
Results for February 25, 2018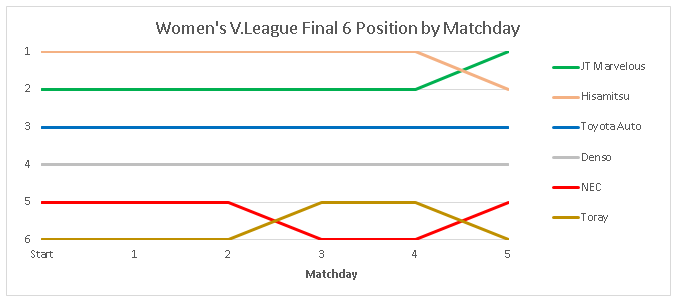 Schedule for the Final 3 (Semifinal), March 3rd and 4th
Both matches at the Kumamoto Prefectural Gymnasium in Kumamoto City, Kumamoto Prefecture
Hisamitsu Springs vs. Toyota Auto Body Queenseis

Only wins count in these matches
If teams are tied at one win each, a 25-point Golden Set is played