2017 FIVB WORLD BEACH TOUR – RIO DE JANIERO
May 17-21
Olympic Park, Barra da Tijuca
Co-ed
4-Star Event
The end of day one at the FIVB World Tour event in Rio has come to a close, with Olympic contenders and champions remaining in the competition, despite some close calls.
Women
Results: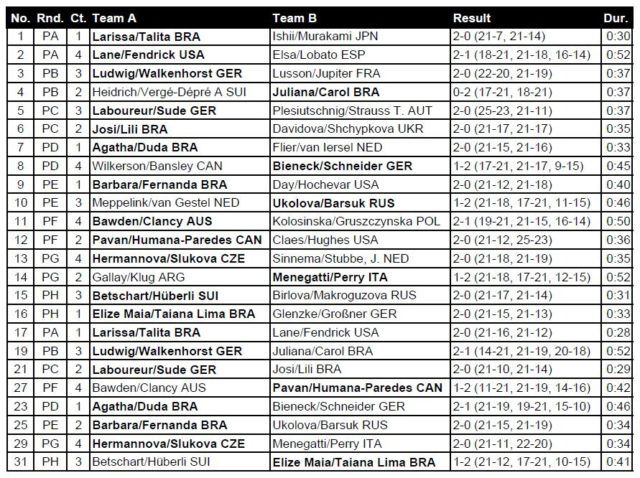 The German, 2016 Olympic champion duo of Laura Ludwig and Kira Walkenhorst survived tough tests from the french pair of Ophelie Lusson/Alexandra Jupiter and Brazilians Juliana Felisberta da Silva/Carolina Solberg Salgado. With the two wins, the German team will advance onward to the elimination tournament with a first round bye.
In total, eight teams advance on with a first round bye in the elimination round, including four Brazilian pairs – Talita Antunes/Larissa Franca, Agatha Bednarczuk/Eduarda Lisboa, Fernanda Alves/Barbara Seixas and Elize Maia/Taiana Lima. Additionally, Chanel Laboureur/Julia Sude of Germany, Barbora Hermannova/Marketa Slukova of the Czech Republic and Melissa Humana-Paredes/Sarah Pavan of Canada advance on in the tournament with the bye.
Two U.S. squads will fight to continue on in the tournament as Brittany Hochevar and Emily Day are set to take on Madelein Meppelink/Sophie van Gestel on the Netherlands in the losers part of the bracket Friday morning. Kelly Claes and Sara Hughes of the U.S. will face off against Kinga Kolosinski/Jagoda Gruszczynska of Poland.
Friday's schedule: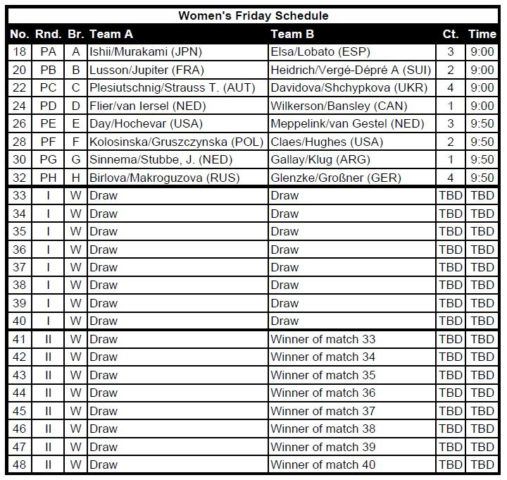 Men
Results: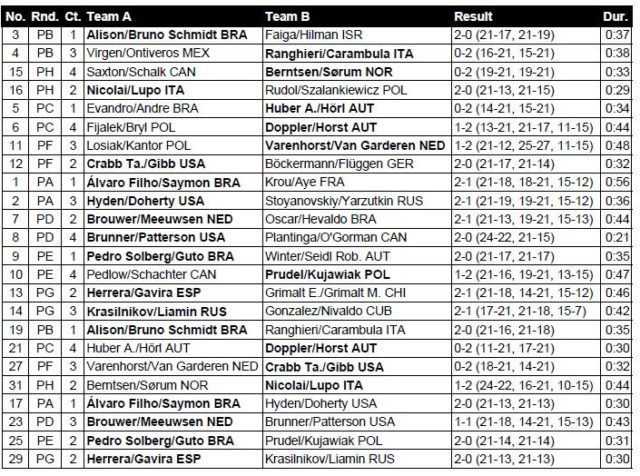 The three champions from the 2016 Rio Games are still in contention for the top prize in Rio, all grabbing two wins on the first day of play.
There was a total of three Brazilian teams that will advance in the tournament with a bye – Alison Cerutti/Bruno Schmidt, Alvaro Filho/Saymon Barbosa and Gustavo Carvalhaes/Pedro Solberg. In the opening FIVB World Tour event of the 2017 season, Alvaro and Saymon captured the title in Fort Lauderdale. Other teams advancing – Daniele Lupo/Paolo Nicolai of Italy, Alexander Brouwer/Robert Meeuwsen of the Netherlands, Adrian Gavira/Pablo Herrera of Spain, Taylor Crabb/Jake Gibb of the U.S. and Clemens Doppler/Alexander Horst of Austria.
Friday's schedule: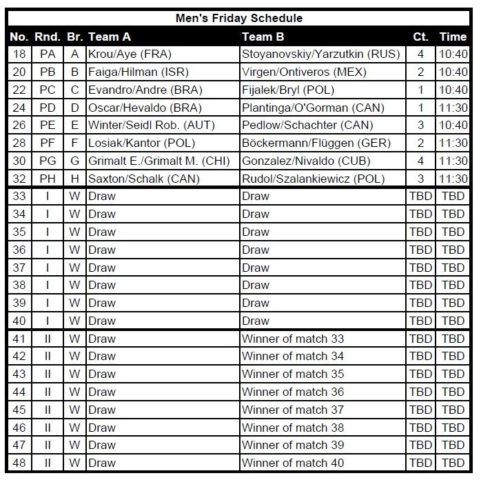 ab