2017 FIVB WORLD TOUR – THE HAGUE
June 14-18
Sportcampus Zuiderpark, The Hague, The Netherlands
The first day of the main draw in The Hague has concluded, with both #1 seeds on the women's side of the tournament being taken down in straight sets. Both pairs are still able to compete further in the tournament, just with a more difficult route to get there.
Many of the top men's squads have taken this weekend off, but Brazil still dominated in many of their matches, while no American duos were able to take a match from anyone.
The Hague is a three-star event, meaning that the purse prize is worth $150,000 with the first-place finishers earning $10,000 to share.
Women's Results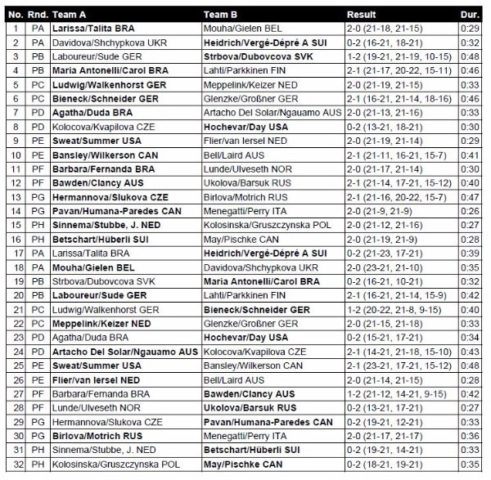 The Swiss pair of Joana Heidrich and Anouk Verge-Depre have been trying to find their groove on the FIVB World Tour all year, and it started to come together in The Hague. The 17th-seed duo took down the co-#1 seeded pair of Talita Antunes and Larissa Franca of Brazil. After opening the day with a win over the Ukraine's Valentyna Davidova/Ievgeniia Shchypkova 2-0, (21-16, 21-18), the pair completed their day sweep over the Brazilians 2-0, (23-21, 21-17). The win secured Heidrich/Verge-Depre a first round bye in the elimination round that will begin Friday. Antunes/Franca are still in contention for the first place prize, despite the loss.
The other #1 seeded pair of Agatha Bednarczuk and Eduarda 'Duda' Santos Lisboa dropped a match, as well, to 20th seeded Emily Day and Brittany Hochevar of the United States 2-0, (21-15, 21-17).
Summer Ross and Brooke Sweat of the United States took down both of their opponents on the opening day of play. Reigning Olympic champions, Laura Ludwig and Kira Walkenhorst won their first match of the day in a straight set sweep, but dropped their second match to fellow German's Isabel Schneider and Victoria Bieneck 2-1, (22-20, 8-21, 15-9).
Men's Results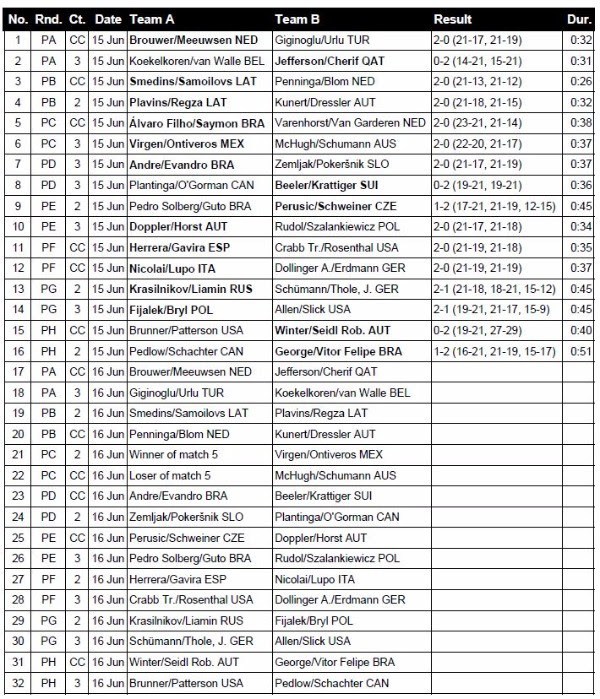 In the beginning round of the men's side of the tournament, Alvaro Filho and Saymon Santos took down the Dutch pair of Maarten van Garderen and Christiaan Varenhorst 2-0, (23-21, 21-14).
No American squads were able to take down their opponents on the first day of pool play, with each of the pairs earning one more shot on day two to prove themselves going into the elimination round of the tournament.
The World Ranked #1 pair of Aleksandrs Samoilovs and Janis Smedins of Latvia took down Ruben Penninga and Mees Blom 2-0, (21-13, 21-12). The duo will take on fellow countrymen of Martin Plavins and Haralds Regza on for their first match on day two.