2017 PAC-12 Beach Volleyball CHAMPIONSHIPS
April 27-28, 2017 (team); April 28-29 (pairs)
Tucson, Arizona
Every single top seed in the 18-team Pac-12 pairs bracket advanced on Friday's first day of competition. That includes top-seeded Kelly Claes/Sara Hughes of USC, who won all 3 of their matches (including two in the team bracket).
They beat Cal's Campbell/Anderson 2-0 in their first match of the pairs tournament, and will play UCLA's Elise Zappia/Torrey van Windern. Zappia/van Winden won the 8/9 game over Utah's Anae/Barton 2-1 (13-21, 21-18, 15-11). That was the only opening-round game that went to 3 sets.
Their teammates Tan/Yeomans are the #2 seeds and swept Cal's Bark/Rodberg 2-0.  The McNamara twins, UCLA's #1 pair, aren't participating in the pairs tournament.
(Click to Enlarge Bracket)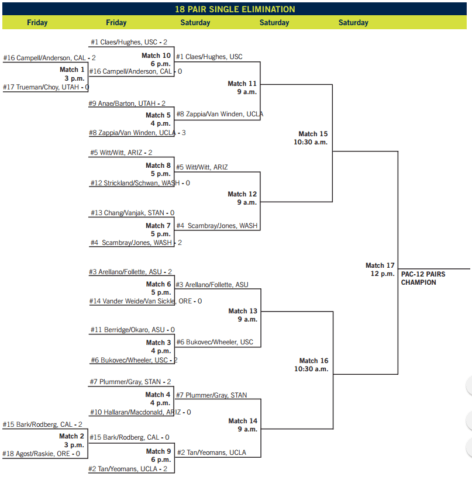 Friday's Results
Match 1: #16 Campbell/Anderson, CAL def. #17 Trueman/Choy, UTAH, 21-10, 22-20
Match 2: #15 Bark/Rodberg, CAL def. #18 Agost/Raskie, ORE, 21-14, 21-15
Match 3: #6 Bukovec/Wheeler, USC def. #11 Berridge/Okaro, ASU, 21-16, 26-24
Match 4: #7 Plummer/Gray, STAN def. #10 Hallaran/Mcdonald, ARIZ, 21-16, 21-14
Match 5: #8 Zappia/Van Winden, UCLA def. #9 Anae/Barton, UTAH, 13-21, 21-18, 15-11
Match 6: #3 Arellano/Follette, ASU def. #14 Vander Weide/Van Sickle, ORE, 21-13, 21-19
Match 7: #4 Scambray/Jones, WASH def. #13 Chang/Vanjak, STAN, 21-11, 21-16
Match 8: #5 Witt/Witt, ARIZ def. #12 Strickland/Schwan, WASH, 21-11, 21-14
Match 9: #2 Tan/Yeomans, UCLA def. #15 Bark/Rodberg, CAL, 21-18, 21-13
Match 10: #1 Claes/Hughes, USC def., #16 Campbell/Anderson, CAL, 21-5, 21-7