May 31 to June 4
'Dynamo' Beach Sports Centre, Vodniy Stadium
Co-ed
3-Star Event
The second day of play of the FIVB World Tour event in Moscow has come to a close, with eight teams advancing onward to the quarterfinals of the competition.
See Friday's men's results below: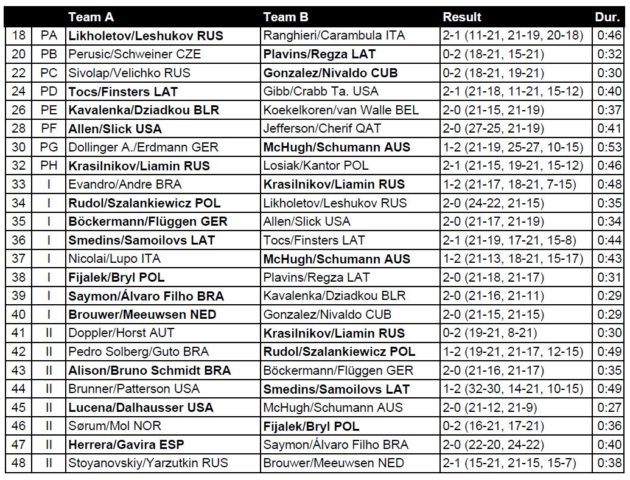 In no surprise, many top teams are advancing on to the quarterfinals of the tournament. Bruno Schmidt/Alison Cerutti will move on as will the American duo of Phil Dalhausser and Nick Lucena, both easily sweeping their opponents.
The Latvian pair of Aleksandrs Samoilovs/Janis Smedins were able to take down USA's Theo Brunner and Casey Patterson in three sets, 2-1, (30-32, 21-14, 15-10). The first set was a real burner for both squads, as it extended past the point regulation of 21 by 11 points.
Teams advancing to the quarterfinals:
Bruno Schmidt/Alison Cerutti of Brazil
Phil Dalhausser/Nick Lucena of USA
Aleksandrs Samoilovs/Janis Smedins of Latvia
Pablo Herrera/Adrian Gavira of Spain
Michal Bryl/Grzegorz Fijalek of Poland
Maciej Rudol/Jakub Szalankiewicz of Poland
Viacheslav Krasilnikov/Nikita Liamin of Russia
Oleg Stoyanovskiy/Artem Yarzutkin of Russia
The quarterfinals will begin tomorrow, along with the semifinal matches. The finals will be held on Sunday.