2017 FIVB WORLD TOUR – THE HAGUE
June 14-18
Sportcampus Zuiderpark, The Hague, The Netherlands
The second day of the main draw has ended in The Hague's three-star tournament. Top-ranked women's pairs redeemed themselves after dropping matches on day one, while the top men's duos are holding strong throughout the tournament.
Women's Results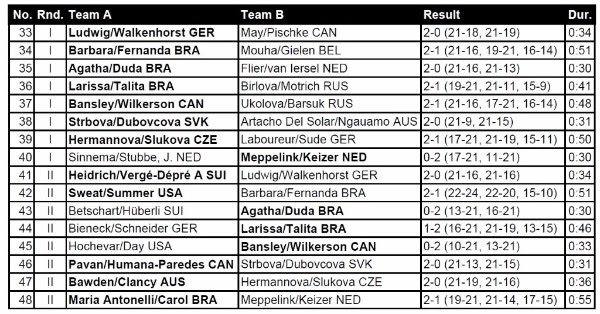 After the two top seeds in the tournament dropping matches on the first day of play, they were able to redeem themselves in the second day of play.
Larissa Franca and Talita Antunes of Brazil took down both of their opponents, starting with Canada's Taylor Pischke and Kristina May 2-1, (19-21, 21-11, 15-9) followed by Isabel Schneider and Victoria Bieneck of Germany 2-1, (21-16, 19-21, 15-13). Also making up for their first-day losses were Agatha Bednarczuk and Eduarda 'Duda" Santos Lisboa of Brazil, first getting through the Netherland's Marleen Ramond-van Iersel and Manon Nummerdor-Flier 2-0, (21-16, 21-13). Their next match was a sweep as well, as they took down Tanja Huberli and Nina Betschart of Switzerland 2-0, (21-13, 21-16).
The American duo of Summer Ross and Brooke Sweat took down Brazil's Barbara Seixas and Fernanda Alves 2-1, (22-24, 22-20, 15-10).
Men's Results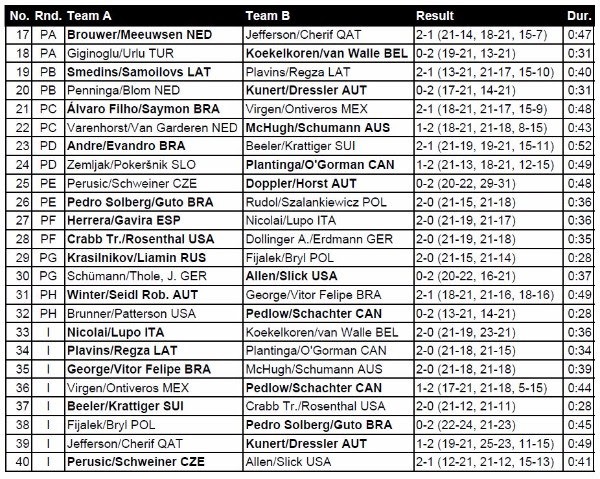 The men's side of the tournament has eliminated half of the field, as 16 teams will move onto the quarterfinals on Saturday, followed by the semifinals that evening.
It was a rough go-around for U.S. pairs in the tournament, with none advancing onward in the tournament. Aleksandrs Samoilovs and Janis Smedins of Latvia have been flying through their competition but will have a tough test against Daniele Lupo/Paolo Nicolai of Italy in their quarterfinal match.
Quarterfinal matches
• Aleksandrs Samoilovs/Janis Smedins, Latvia (No. 2 seed) vs. Lupo/Nicolai, Italy (11)
• Clemens Doppler/Alexander Horst, Austria (12) vs. Plavins/Regza, Latvia (15)
• Adrian Gavira/Pablo Herrera, Spain (6) vs. Vitor Felipe/George, Brazil (24, Q5)
• Evandro Goncalves/Andre Loyola, Brazil (4) vs. Pedlow/Schachter, Canada (9)
• Saymon Barbosa/Alvaro Filho, Brazil (3) vs. Beeler/Krattiger, Switzerland (20)
• Robin Seidl/Tobias Winter, Austria (25, Q7) vs. Guto/Solberg, Brazil (5)
• Viacheslav Krasilnikov/Nikita Liamin, Russia (7) vs. Dressler/Kunert, Austria (18)
• Brouwer/Meeuwsen, Netherlands (1) vs. Perusic/Schweiner, Czech Republic (28, Q16)