May 31 to June 4
'Dynamo' Beach Sports Centre, Vodniy Stadium
Co-ed
3-Star Event
Day one of pool play at the FIVB World Beach Tour event in Moscow has ended on the women's side of things, with tons of top-dog wins on the day. The schedule for day one consisted of every pair playing at least one match, with pools of four teams. The winners of the first two matches of pool play faced each other later in the day, with the losers set to face off tomorrow.
Below are all the results for Wednesday: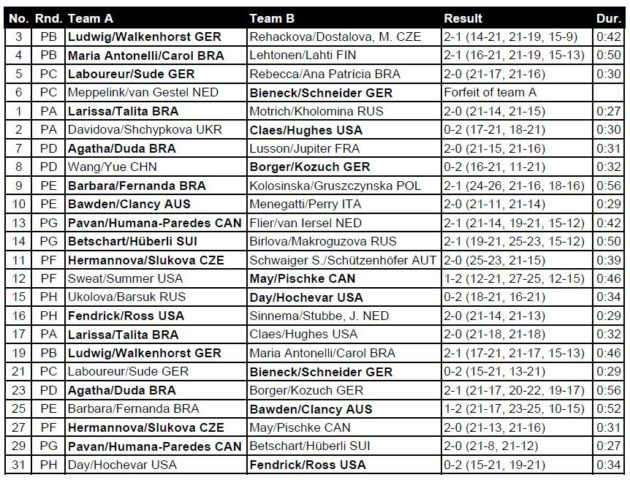 With two wins on day one, it is now a possibility that Brazilian's Talita Antunes and Larissa Franca could meet up against Rio 2016 Olympic champions Kira Walkenhorst and Laura Ludwig of Germany. This has happened on multiple occasions, with the German pair holding a 5-1 advantage in wins. Their last meeting was at the Olympics when the German crew took down the Brazilians in the semifinals 2-0, (21-18, 21-12).
Antunes/Franca had an easy first day of play as they rolled through their opponents in straight sets, while the German duo had a slightly more difficult path, fighting through three-set matches in route to their victories.
Along with Antunes/Franca and Walkenhorst/Ludwig's wins, another six pairs joined them with bye matches to the second round of elimination play. The pairs are: Victoria Bieneck/Isabel Schneider of Germany, Agatha Bednarczuk/Eduarda 'Duda' Santos Lisboa of Brazil, Louise Bawden/Taliqua Clancy of Australia, Barbora Hermannova/Marketa Slukova of the Czech Republic, Melissa Humana-Paredes/Sarah Pavan of Canada and Lauren Fendrick/April Ross of the USA.