May 31 to June 4
'Dynamo' Beach Sports Centre, Vodniy Stadium
Co-ed
3-Star Event
Two Brazilian and two USA pairs advance with byes heading into the second day of play at the FIVB World Beach Tour event in Moscow. The schedule for day one consisted of every pair playing at least one match, with pools of four teams. The winners of the first two matches of pool play faced each other later in the day, with the losers set to face off tomorrow.
Below are all the results for Wednesday: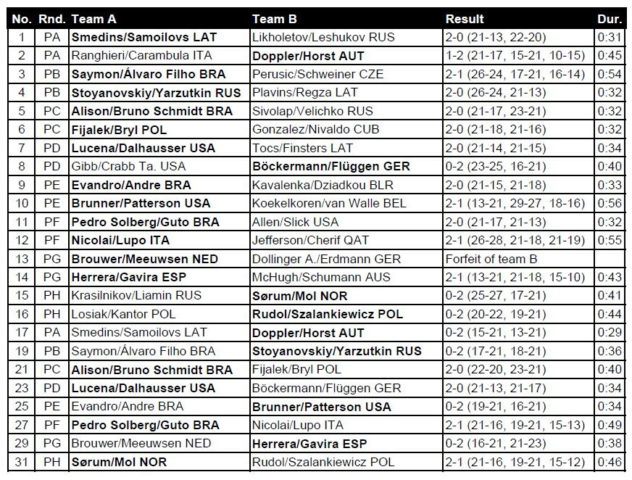 Advancing onward in the tournament are Rio Olympic champions, Bruno Schmidt and Alison Cerutti of Brazil. The duo was able to fly through their opponents in straight sets, while fellow Brazilians Gustavo "Guto" Carvalhaes and Pedro Solberg move on with a bye as well. American's Phil Dalhausser/Nick Lucena and Theo Brunner/Casey Patterson also move on to the second round of elimination.
There were another four pairs that will move on with a bye match, including Clemens Doppler/Alexander Horst of Austria, Oleg Stoyanovskiy/Artem Yarzutkin of Russia, Adrian Gavira/Pablo Herrera of Spain and Anders Mol/Christian Sorum of Norway.