2017 U21 WORLD BEACH CHAMPIONSHIPS
July 11-14
Nanjing, China
The first day of the main draw of the U21 World Beach Championships has ended. On the women's side of the tournament, there were a number of teams that finished their day with two wins, while on the men's side there were some thrilling comeback matches occurring.
All American teams in the tournament won their matches on day one.
Women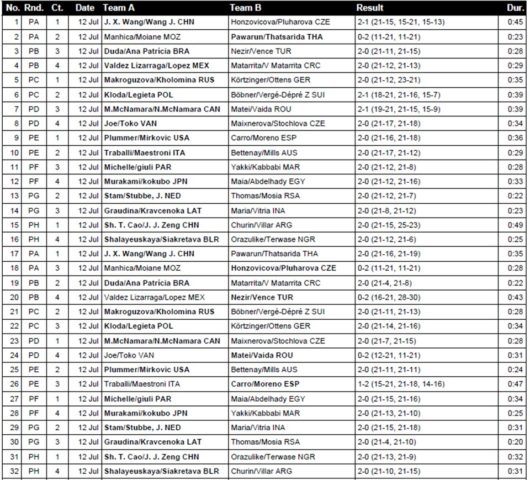 Canada's Megan McNamara and Nicole McNamara are looking to make it to the U21 podium for the second year in a row after posting two wins on the first day of competition. Last year in Lucerne, the McNamara twins claimed the bronze medal. The Canadian duo first took down Romanian's Adriana-Maria Matei/Beata Vaida 2-1, (19-21, 21-15, 15-9). The second match was against Martina Maixnerova/Marie-Sara Stochlava from the Czech Republic. The McNamara twins took down the Czech squad 2-0, (21-7, 21-15).
China's Wang Jiaxi/Wang Jing topped their pool with two wins, starting with Natalie Honzovicova/Tereza Pluharova of the Czech Republic 2-1, (21-15, 15-21, 15-13). In the second match, the pair took down U21 Asian Championship winners Thailand's Pawarun Chanthawichai/Thatsarida Singchuea 2-0, (21-16, 21-19).
The defending champions, Brazil's Eduarda 'Duda' Santos Lisboa and Ana Patricia Silva Ramos took down both of their opponents on day one of the U21 World Championships. The two started their successful run with Turkey's Merve Nezir/Aleyna Vence 2-1, (21-11, 21-15) then Costa Rica's Lucia Matarrita Soto/Valeria Maria Matarrita Soto 2-0, (21-4, 21-8).
From the United States, Kathryn Plummer/Milica Mikovic finished their first day with two victories. The team started their day with a win over Spain's Maria Belen Carro/Tania Moreno 2-0, (21-16, 21-18). In their second match of the day, Plummer/Mikovic took down Caitlin Bettenay/Sabine Mills 2-0, (21-11, 21-11).
Each of the pools will conclude their pool play phase on July 13 with the top three teams in each pool advancing to the single-elimination phase.
Men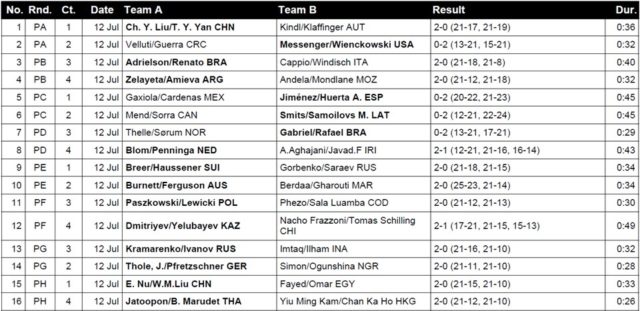 From The Netherlands, Mees Blom/Ruben Penninga took down Iran's Alireza Aghajanighasab/Javad Firouzpourbandpei in a comeback win 2-1, (12-21, 21-16, 16-14). The Iranian team is new to the beach volleyball circuit, showing their strength at the 2017 Asian U21 Beach Volleyball Championships with a final four finish. Blom/Penninga have competed in two FIVB World Tour events this season – Kish Island and The Hague.
From the United States, Clay Messenger/Adam Wienckowski became the leaders of Pool A after a win over Nicolas Velluti Morales/Fabian Guerra Esquival of Costa Rica 2-0, (21-13, 21-15).
The men's pool play action will conclude on July 13 with the top three teams in each pool moving on to the single-elimination phase of the tournament.