Courtesy: Wisconsin Athletics
MADISON, Wis. – Head coach Kelly Sheffield has announced that Angel Agu has joined the Wisconsin volleyball staff as a volunteer assistant coach. Agu joins the Badgers after serving as a graduate assistant coach at LaSalle University for one season. She also played four seasons at the University of Dayton, including two years under Sheffield.
"I'm so excited for Angel be a part of our staff this year," said Sheffield. "Recruiting her and getting to coach her for two seasons at Dayton, I saw a player that absolutely loved the game of volleyball and loved learning. I don't remember a day when she wasn't upbeat, even though early on in her career she didn't get a lot of playing time. She was the ultimate team player.
"Last year Angel had a great experience being a part of LaSalle's coaching staff and then she came and worked our summer camps. Her positive life spirit is contagious, and her passion for the game and drive to learn will be of great benefit to the players and the coaching staff."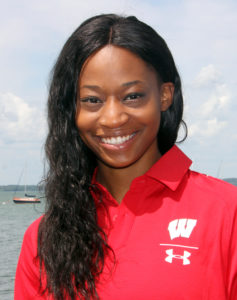 Agu had a successful four-year career with the Flyers. The 6-2 middle blocker was a four-time Atlantic 10 champion at Dayton and appeared in 83 matches over her career. Elected a team captain her senior season, Agu aided the Flyers to four appearances in the NCAA tournament, advancing to the second round three times.
The Grapevine, Texas, native ranked second for the Flyers with 0.88 blocks per set in 2015, while tallying a career best 140 kills and 100 blocks. Agu was named to the 2015 Dayton Invitational All-Tournament team after helping the squad to wins over Eastern Illinois and Cleveland State.
"I'm extremely excited to be back with Kelly," said Agu. "I played for him at Dayton and I truly enjoyed his passion for the game, what he stood for, and the traditions he instilled in the team. To be back on staff as a coach with him is absolutely unbelievable and amazing, and I am so grateful for this opportunity."
Agu was a recipient of the 2015 Katie Hausfield Teammate award for her leadership through example, commitment to the game, and support as a teammate for the Flyers. Additionally, she was a two-time nominee for the Northwestern Mutual Leadership Award.
Off the court, Agu demonstrated her leadership skills at Dayton as a member of the Student Athletic Advisory Council from 2014-16. She led the coordination of the Recognition and Celebration of University of Dayton Student-Athletes Year End Showcase for over 400 guests as a member of SAAC.
Agu, who is a first generation U.S. citizen, is a 2016 graduate from Dayton in business. Her parents are from Enugu State, Nigeria.
🗣 @KellyPSheffield: "I'm so excited for Angel be a part of our staff this year," said Sheffield. "Recruiting her and getting to coach her for two seasons at Dayton, I saw a player that absolutely loved the game of volleyball and loved learning."

Welcome to the team @Angel_A11! pic.twitter.com/FU2Or3TWxG

— Wisconsin Volleyball (@BadgerVB) August 9, 2018