2017 FIVB WORLD BEACH TOUR – RIO DE JANIERO
May 17-21
Olympic Park, Barra da Tijuca
Co-ed
4-Star Event
The first day of the main draw for the World Tour event in Rio will feature a modified pool play format for both the men and women's sides of the competition. The women will begin the competition's play in the morning, followed by the men.
The change comes that instead of the four-team, six-match schedule for each grouping, the new pool play format will still feature four-teams, but only four matches in the quad with three being played on the first day. The top seed of each pool will play the lowest seeded duo in the grouping while the second and third-seeded pairs will meet in the other match. The winning teams in the opening round of matches will meet later in the day, with the winners of that match moving on to the elimination tournament, earning a first-round bye. The loser will gain a spot in the first round of the elimination tournament as does the winning team from Friday's early match schedule in the meeting of the opening pool losers.
Below is an example of the format:
Thursday's schedule: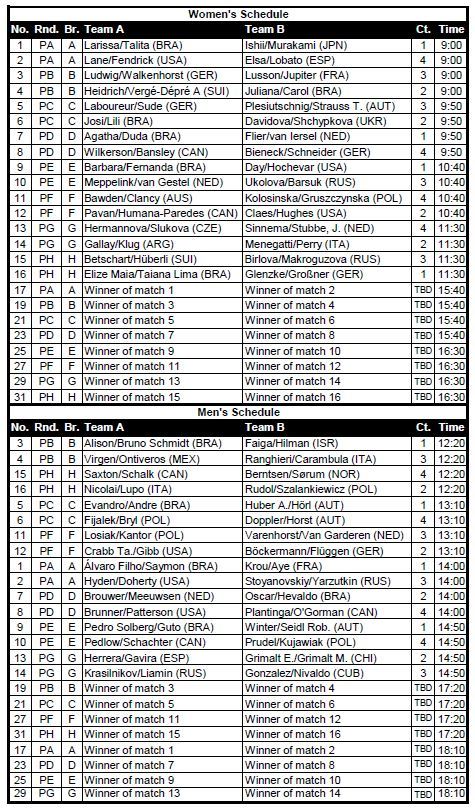 The competition began on Wednesday with the qualification round, where eight teams from each gender advanced on to the main draw event. Play on Friday and Saturday will begin the elimination process with the medal matches beginning on Sunday. The winning teams from each gender will take the gold medal along with the $20,000 first-place prize.