2017 FIVB WORLD BEACH TOUR – RIO DE JANIERO
May 17-21
Olympic Park, Barra da Tijuca
Co-ed
4-Star Event
Alison/Bruno Schmidt (Brazil) def. Losiak/Kantor (Poland) 2-0 (25-23, 21-12) for gold medal
The defending Olympic champions Alison Cerutti and Bruno Schmidt chalked up their 12th career FIVB World Tour gold medals as a pair on Sunday, winning the gold medal match of the Rio Open over Piotr Kantor and Bartosz Losiak in a two-set sweep. That earned the Brazilians $20,000 to share, while the Polish pair receive $16,000.
"The Polish are a tough team to play," said the 30-year old Bruno.  "It has been a good week for us after starting the season slowly in the United States.  We started getting our act together once we returned to the Brazilian tour and played our best this week against the world's elite teams."
Bruno is referencing his team's performance at the season-opening Fort Lauderdale Major, where they finished just 5th by losing in the quarterfinals. They have, however, won 3 stops on their domestic tour already this season – at Uberlandia, Sao Jose, and Niteroi.
Alison/Bruno Schmidt looked as good as they have this season in Rio – running a perfect 6-0 record on the weekend, including winning all 12 sets in which they played.
The men's pair followed up on the win by Agatha/Duda earlier in the day to make for a Brazilian sweep in front of a home crowd. This is the 58th time that Brazil has swept the gold medals at a FIVB World Tour event since they started hosting combined beach tournaments in 1992.
Full match replay:
Full tournament bracket (click to enlarge):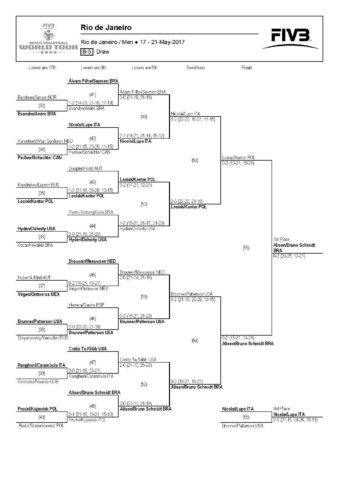 Nicolai/Lupo (Italy) def. Brunner/Patterson (USA) 2-1 (21-15, 14-26, 15-11) for bronze medal
The Olympic silver medalists Paolo Nicolai and Daniele Lupo beat Theo Brunner and Casey Patterson 2-1 in the men's bronze medal game, which earned them a $10,000 payday to be shared. The Americans received $8,000 for their 4th-place finish.
Full match replay: