2018 MONTREUX VOLLEY MASTERS
Montreux, Switzerland
4–9 September
After a slow start to the tournament via a 3-0 loss to Turkey, the Italian women have picked up steam quickly. In Saturday's semifinals, they beat Brazil 3-2 to advance to just their 2nd final since the tournament switched to a bracket format in 2007.
There they will face Russia, who swept Turkey 3-1 in the other semifinal. Russia, who continues to play without their best hitter Tatiana Kosheleva, has shown a ton of resilience through the exhibition schedule, having already won the Rabobank Super Series in August, and now advancing to the final in Montreux (and giving Turkey their first lost of the tournament).
In the  minor classificaiton matches, China beat Poland 3-1, while Cameroon picked up its first win of the tournament by beating the hosts Switzerland 3-2 (winning the tie-breaking 5th set 15-1).
Championship Bracket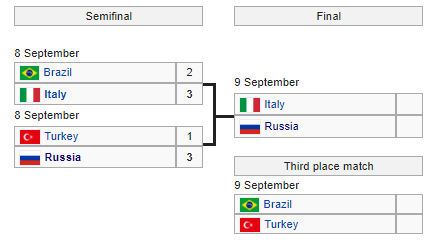 Italy def. Brazil 3-2 (19-25, 25-18, 22-25, 25-17, 15-12)
After Italy won in the teams' only matchup of the Nations League by a score of 3-2, they did so again, in nearly identical fashion, on Saturday in the Montreux semi-finals. The order of set wins was exactly the same on Saturday as it was in the VNL, with similar scores in each set, including the final 15-12 tie-breaker matching identically.
As one of their final big preparations for the World Championships, Italy settled into their starting lineup, which meant a heavy dose of Paola Egonu. The 19-year old had 32 points, with 25 kills on 62 swings (40% hitting). She again was the dominant offensive force for the Italians, with almost twice-as-many attempts as any other player on the roster, but she also contributed in other areas. She had 2 aces, and 5 blocks – part of a team effort of 17 for Italy.
Italy started Egonu, Sylla, Lucia Bosetti, Chirichella, Danesi, and Malinov, which is expected to be their roster for Worlds.
Italy out-blocked Brazil as a team 17-10, which held the Brazilians to just 35.7% hitting in the match.
Brazil's top scorer on the day was Rosamaria, as it has been for most of the tournament, with 20 points on 18 kills and 2 blocks. Ana had 4 blocks for Brazil.
Brazil made wholesale changes in the 3rd set of the game, bringing in Adenizia da Silva in stead of Thaisa Daher; and Drussyla Costa in place of Fernanda Rodrigues. Neither substitution resulted in an appreciable improvement in play.
Russia def. Turkey 3-1 (25-17, 20-25, 25-15, 25-21)
Nataliya Goncharova continued to push the Russian team forward on Saturday, leading the team with 19 points and 18 kills on just 34 swings (52.9% hitting). Arguably her best performance of the tournament so far, Russia finally settled in to Evgeniya Startseva as setter, with Tatiana Romanova playing in reserve duties in all 4 sets, but Startseva getting the start. That should be a sign of where Russian coach Vadin Pankov is thinking for the World Championships in the least-settled position on the Russian roster.
Russia out-blocked Turkey 13-8, and out-served then 5-3 in the match. The Russians were also stout in the back row, with 49 digs in the match – 8 more than Turkey.
Veteran Meryem Boz (19 points, 18 kills) had a performance at least equal to that of Gonchorova, hitting slightly better at 54.5%. Eda Dundar had 15 (10/22 hitting), but the rest of the team only hit 31% combined. Taking away their top two hitters, the rest of the Russian team hit 36% in the match, and that was the difference.
Classification Matches
China def. Poland 3-1 (Stats) – Malwina Smarzek had 26 points and Agnieszka Kakolewska had 11 kills and 10 blocks, but it wasn't enough to overcome a young Chinese "B" team led by 26 from Xiangyu Gong. China had 4 players score in double figures in the match, in spite of a 16-9 blocking advantage by Poland.
Cameroon def. Switzerland 3-2 (Stats) – Letitia Bassoko had 18 for Cameroon and Stephanie Mogoung had 7 blocks as the Africans upended the hosts Switzerland 3-2. For Switzerland, the Korina Perkovac era may have begun this week – after serving as mostly a reserve in the team's first 2 matches, she entered midway through the game on Friday, and has been her team's best player since. She had 15 against Cameroon on 48% hitting at just-past-19-years old.
Sunday's Schedule
Bronze Medal Match – Brazil vs. Turkey – 13:30 local time (7:30AM US Eastern Time)
Gold Medal Match – Italy vs. Russia – 16:00 local time (10:00AM US Eastern Time)