2017 FIVB WORLD TOUR – GSTAAD MAJOR
July 4 to July 9
Five-Star Event
Gstaad, Switzerland
Day one of the FIVB World Tour stop in Gstaad has concluded with a number of women's teams going undefeated on the day. On the men's side, there was an upset that took down the 2016 Rio Olympic silver medalists.
Women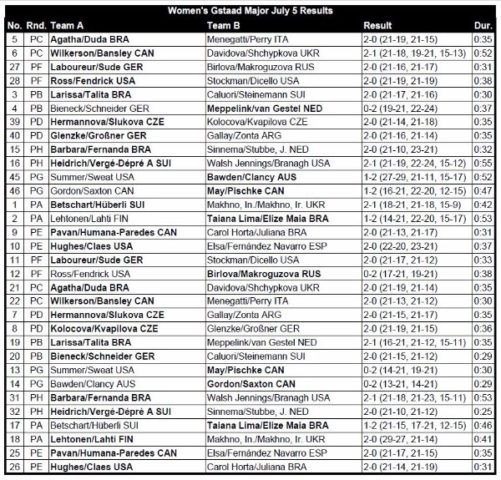 Kelly Claes and Sara Hughes only American duo to win both of their matches on day one of the main draw of the Gstaad Major. In the first match of the day, they took down Spain's Elsa Baquerizo and Amaranta Fernandez Navarro in a 2-0, (22-20, 23-21) sweep. Their final match of the day came against Juliana Felisberta da Silva/Carolina Horta of Brazil in a 2-0, (21-14, 21-19) win. With the wins, Claes/Hughes are guaranteed a spot in the Round of 32, the elimination rounds.
World rank #1 Larissa Franca and Talita Antunes of Brazil had no problems running through their opponents today, also advancing to the elimination round. In other Brazilians going 2-0, Agatha Bednarczuk and Eduarda 'Duda' Santos Lisboa ran through their opponents on day one, as well as Barbara Seixas and Fernanda Alves.
From the host country, Joana Heidrich and Anouk Verge-Depre swept their opponents on day one. No Swiss women's team has won a pool in Gstaad since 2013.
Men
On the men's side of the tournament, Qatar's Jefferson Santos Pereira and Cherif Younousse posted a huge upset in the first round of play with a win over Olympic silver medalist, Daniele Lupo and Paolo Nicolai of Italy 2-1, (13-21, 21-13, 23-21). The Qatari pair has struggled this season, after finishing ninth at the Rio Olympic Games they have posted a 33rd, 25th, 17th and 33rd place finish at international events in China, Russia, The Netherlands and Croatia.
Brazil's Pedro Solberg and Gustavo "Guto" Carvalhaes continue their winning streak to 10 days, after taking down Mirco Gerson and Michiel Zandbergen.
From the United States, Phil Dalhausser and Nick Lucena took down fellow American's Sean Rosenthal and Trevor Crabb 2-0, (21-16, 21-16). Also, Taylor Crabb and Jake Gibb won their match over Chile's Marco Grimalt/Esteban Grimalt 2-0, (21-15, 21-16).