For the first time since rally scoring was introduced at the FIVB Men's Volleyball World Championships in 2002, two players have hit the 30-point mark in the same match.
In Wednesday's high-intensity preliminary round showdown between Argentina and Japan, vying for the last spot in the 2nd round of the tournament, Japan won 3-2; but Argentina only needed 2 sets to advance and eliminate the Japanese.
For the victorious Japanese, Yuji Nishida became the youngest player to ever pull off the feat by scoring 30 points at 18 years, 7 months, and 20 days old. The previous youngest was Iran's Amir Ghafour, who scored 30 points against Serbia in 2014 at 23 years, 3 months, and 9 days old. Ghafour is still active in the Iranian National Team. Nishida stands only 6'1″ (186cm) tall, which is well shorter than the average international-caliber opposite, but makes up for it with an incredible leap, as show in the video below:
Japan's 🇯🇵 #11 Yuji Nishida starts & ends this one! Great serve that gets Belgium 🇧🇪 off-balance and a huge spike from the back to finish! Wow! #FIVBMensWCH #volleyball #volleyballWCHs @JPN_Volleyball pic.twitter.com/TX4U71btm6

— Volleyball World (@FIVBVolleyball) September 16, 2018
For Argentina, it was the veteran Facundo Conte who pulled off the feat, hitting 30-for-36 (83.33%) and adding 2 aces and a block to finish the match with 33 points – the 4th-highest total in history. His was also the highest hitting percentage and fewest swings needed to clear the 30-point barrier. He was only hitting 42% in the tournament coming into the match, and had only 43 points (and just 25 kills) in the team's first 4 matches combined before Tuesday.
Conte also becomes the first South American player to score 30-points-or-more in a World Championship match (and just the 3rd from the western hemisphere).
So far, 3 players at this year's championship have cleared the 30-point barrier, which is already more than did so in 2002 or 2010, but still less than 2006 and 2014.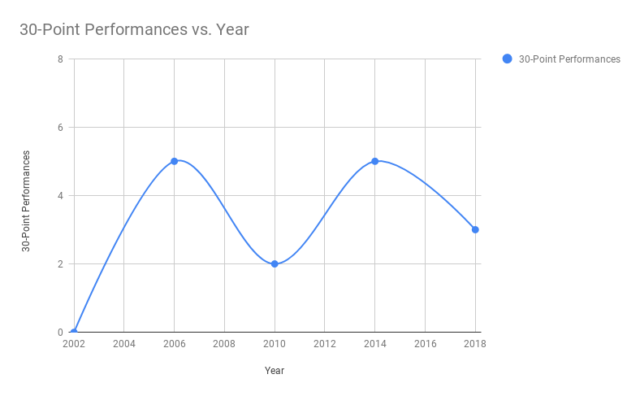 All Time 30+ Point Performances, World Championship History
38 – Hector Soto, PUR, 2006 (vs. Argentina, 2006) – 5 sets – win
37 – Maurice Torres, PUR, 2018 (vs. Finland, 2018) – 5 sets – loss
36 – Hector Soto, PUR (vs. Tunisia, 2006) – 5 sets – loss
33 – Facundo Conte, ARG (vs. Japan, 2018) – 5 sets – loss
32 – Jan Stokr, CZE (vs. Germany, 2006) – 4 sets – win
31 – Yuan Zhi, CHN (vs. Egypt, 2014) – 4 sets – win
31 – Mariusz Walzly, POL (vs. Brazil, 2014) – 5 sets – win
30 – Hector Soto, PUR (vs. Japan, 2006) – 4 sets – loss
30 – Hector Soto, PUR (vs. Canada, 2006) – 4 sets – loss
30 – Ivan Miljkovic, SRB (vs. Cuba, 2010) – 4 sets – loss
30 – Iban Perez, ESP (vs. Russia, 2010) – 5 sets – win
30 – Amir Ghafour, IRI (vs. Serbia, 2014) – 5 sets – win
30 – Yuan Zhi, CHN (vs. Mexico, 2014) – 4 sets – win
30 – Ivan Mijkovic, SRB (vs. Korea, 2014) – 4 sets – win
30 – Yuji Nishida, Japan (vs. Argentina, 2018) – 5 sets – win