Duquesne senior middle blocker Abbie Trzeciak and VCU senior outside hitter Alicia Kandler led their respective squads to 2-0 league starts en route to Atlantic 10 Co-Player of the Week accolades.
Trzeciak averaged 3.38 kills per set on a .429 hitting effort in the Duke's victories over George Mason and George Washington for her first league honor. In the league opener against GMU, the Cranberry Township, Pennsylvania native, notched 12 kills and a team-leading six blocks. Against GW, Trzeciak downed a team-best 15 kills, while hitting at a  .500 clip and added a team-high three blocks.
For her part, Kandler registered 3.67 kills per set, while hitting at a .365 clip and averaging 1.67 digs and 0.67 blocks per set in wins over Rhode Island and Fordham. Against Rhode Island, the Olfen, Germany, native chalked up a team-best 12 kills with no errors for a .429 hitting performance. She also added eight digs, two blocks and an ace. In the weekend finale, Kandler tallied a team-best 10 kills, two digs, two blocks and an ace.
Also earning A-10 nods were VCU junior middle Tori Baldwin and Davidson freshman middle Ellie Crosley, who garnered Defensive and Rookie of the Week honors respectively.
Baldwin put up 14 blocks and 11 kills as VCU extended its win streak to 12 matches, averaging 2.33 stuffs per set. In the A-10 opener, the Liberty, North Carolina, native recorded a match-high eight blocks and four kills. Baldwin put up a team-best six blocks and added seven kills on a .417 hitting effort against Fordham.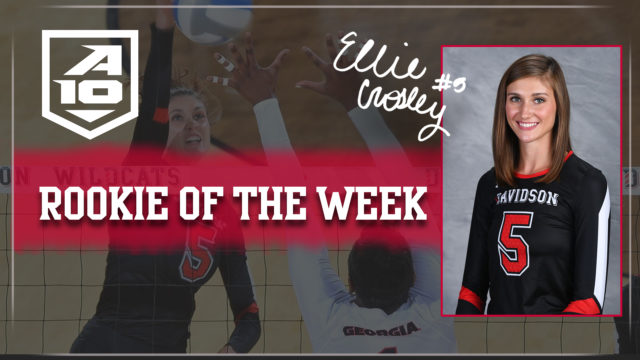 Crosley tallied 14 stuffs, an average of 1.75 per set, in Davidson's conference opening split with Fordham and Rhode Island. The Austin, Texas, native posted six kills and six blocks in an errorless .857 hitting performance against Fordham, and notched eight kills and eight digs in a five-set loss to Rhode Island.