2017 FIVB World Tour – Olsztyn
July 19-23
Four-Star Event
Event Site
Schedule
The first day in Olsztyn's main draw has concluded for the four-star event. This is the first four-star event since Rio back from May 16-21. The winners on both the men's and women's side of the tournament have the opportunity to win $20,000.00 in prize money as the winners. This tournament is a lead up to the World Beach Championships in Vienna starting on July 28 and running through August 6.
Women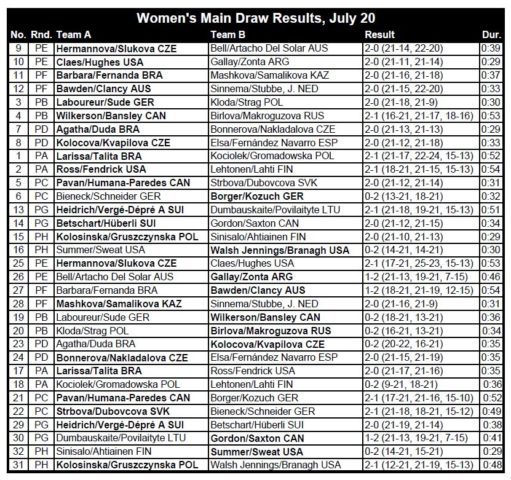 Brazil's Larissa Franca/Talita Antunes begin Olsztyn with two wins on day one. First, the Brazilian squad defeated Katarzyna Kociolek/Aleksandra Gromadowska of Poland 2-1, (21-17, 22-24, 15-13) followed by April Ross/Lauren Fendrick 2-1, (21-17, 21-16).
Other teams securing a bye in the first round of elimination are – Kristyna Kolocova/Michala Kvapilova (Czech Republic), Barbora Hermannova/Marketa Slukova (Czech Republic), Melissa Humana-Paredes/Sarah Pavan (Canada), Joana Heidrich/Anouk Verge-Depre (Switzerland), Jagoda Gruszczynska/Kinga Kolosinska (Poland), Louise Bawden/Taliqua Clancy (Australia) and Heather Bansley/Brandie Wilkerson (Canada).
Men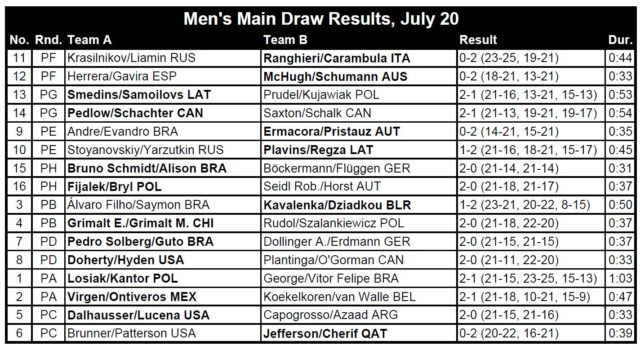 Two American crews won their matches on day one of Olsztyn. John Hyden and Ryan Doherty took down Grant O'Gorman/Michael Plantinga of Canada 2-0, (21-11, 22-20). The pair is guaranteed a spot in Friday's elimination round and can secure a bye on Saturday morning with a win over Brazil's Gustavo 'Guto' Carvalhaes/Pedro Solberg. Hyden is the oldest player on the tour at 22 years old.
Phil Dalhausser/Nick Lucena took down Nicolas Capogrodosso/Julian Amado of Argentina 2-0, (21-15, 21-16).
Brazil's Carvalhaes/Solberg defeated Jonathan Erdmann/Armin Dollinger 2-0, (21-15, 21-15) to advance along in the tournament.