Manila One-Star
Sands SM by the Bay; Manila, Philippines
May 3-6
Schedule/Results
The first four quarterfinal berths were decided after 16 pool play matches on Friday with the four pool winners advancing. The remaining eight teams will battle it out in the Round of 12 for the final four spots.
The four women's pool winners were Erika Bobadilla/Michelle Valiente (Paraguay), Ayumi Kusano/Takemi Nishibori (Japan), Sakurako, Fujii/Shinako Tanaka (Japan) and Maria Carro/Paula Soria (Spain).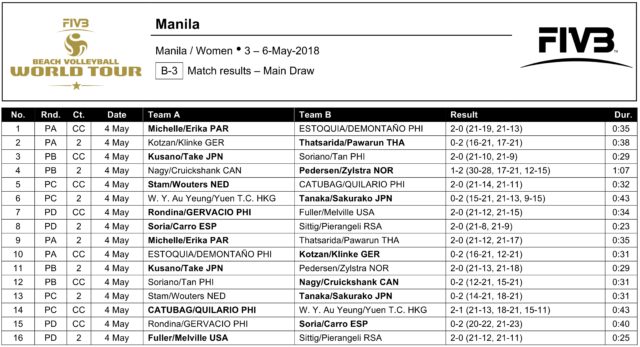 On the men's side, the first four teams through to the quarterfinals are Florian Schnetzer/Daniel Mullner (Austria), Max-Jonas Karpa/Milan Sievers (Germany), Simon Hagenbuch/Quentin Metral (Switzerland) and Gabriel Kissling/Michiel Zandbergen (Switzerland).
The Germans, which had already played two qualifying matches,  made their way through two three-set affairs to advance to claim their spot in the quarters. Just three other tiebreaks occurred over the 16-match pool play slate.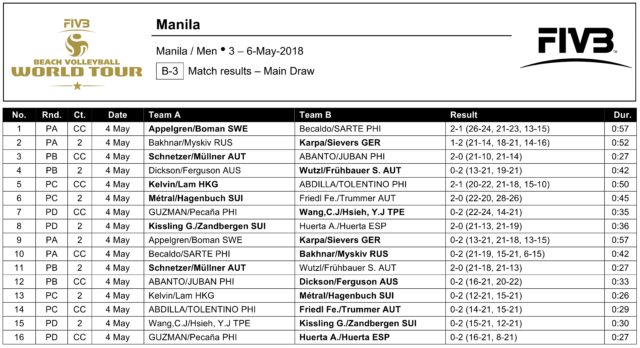 Next up are Round of 12 matches beginning at midnight ET Friday with the four men's and four women's winners earning the final spots in the quarterfinals.
Among the women's field are Americans Lindsey Fuller/Kaley Melville. The pair advanced by splitting its Pool D matchups, falling to Rondina/Gervacio of the Philippines and besting South Africa's Sittig/Pierangeli in straight sets.
Two teams from the Philippines as well as pairs from Canada, Germany, the Netherlands, Norway and Thailand round out the early Saturday pairings.
On the men's side, two teams from Austria as well as one each from Australia, Hong Kong, Russia, Spain, Sweden and Taipei make up the field.