QINZHOU THREE STAR
Oct. 11-15, 2017
Qinzhou, China
As the second tournament of the 2018 FIVB Beach season gets underway this week, the teams will be adjusting to a new rule.
The FIVB announced that it will be testing a new block touch rule, where teams will be allowed three touches after a block, an adjustment from the previous rule where the block counted as the team's first touch. The rule falls in line with the indoor game, where a block doesn't count as a touch in the return game.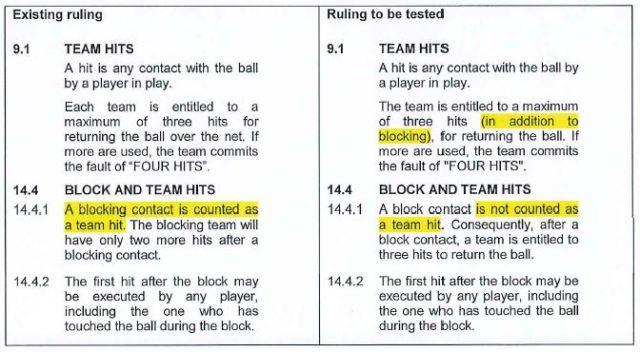 During the testing period, which will last from October 2017 to Feb. 25, 2018, the FIVB will analyze how the rule effects rally length and could possibly make the sport more spectator friendly. In addition to the statistical comparison, athletes, coaches, officials, referees, media and others will be surveyed for feedback. The FIVB Beach Volleyball Commision and FIVB Board of Administration will then analyze the results moving forward.
It appears some teams have trepidation about the change.
American Mark Burik posted the following on his Facebook page, Oct. 7. Burik will be playing in the Qinzhou Three Star with partner Bill Kolinske.
"Going to China tmro to play with this rule. Just a few practices with it. For sure, HATE IT. Observation today, it would definitely create more double big guy options for teams. Using the block for some tools and pressure isn't a great option any more. ANY time you get touched on a block is now a free ball. Makes first ball termination SUPREMELY IMPORTANT even more than it is now and yes it shortens rallies. Knowing that you must terminate hard on the first ball will lead to more high risk swings from the offense. This rule would lead to diggers who can be less perfect and hitters who MUST TERMINATE at the first opportunity. It changes a lot about swing selection. However!!!! Practicing with this rule might have the advantage of making a player understand that they need to finish plays on their first attempt."
Stay tuned to VolleyMob for updates on how the rule effects the tournament and further feedback from beach players.