2017 FIVB WORLD TOUR – POREC MAJOR
June 26 to July 2
Five-Star Event
Day one of the FIVB World Tour event in Porec has concluded, with the first round of pool play taking shape. Two matches on the women's side and one on the men's have been delayed until Thursday due to unexpected rainfall.
The tournament is set up to allow the winners of each women's pool to have a first round bye. This allows for 12 teams to move on to the round of 24, which begins the elimination bracket. The following 12 teams will be determined on June 29, as the rest of the teams in each pool fight it out for a spot in the next round.
The men's side of the tournament will feature a different set-up than the women's side, being that there will be three days of pool play as opposed to just two for the women before moving on to the elimination rounds.
Women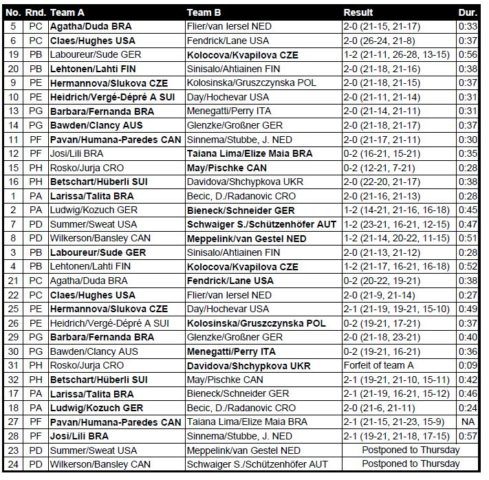 There were two Brazilian and Czech Republic pairs that went undefeated on day one, including a pair each from Canada, Switzerland and the United States having an unbeaten crew as well. From Brazil, Larissa Franca/Talita Antunes and Fernanda Alves/Barbara Seixas while Barbora Hermannova/Marketa Slukova and Kristyna Kolocova/Michala Kvapilova from the Czech Republic stayed undefeated.
From the United States, Kelly Claes and Sara Hughes started their day off with a 2-0, (26-24, 21-8) victory over fellow Americans Lauren Fendrick and Lane Carico. Their second win of the day came to the Dutch pair of Marleen Ramond-Van Iersel and Manon Nummerdor-Flier 2-0, (21-9, 21-14). The only other American crew to take a victory on the day was Fendrick/Carico over Brazil's Agatha Bednarczuk and Eduarda 'Duda' Santos Lisboa.
Men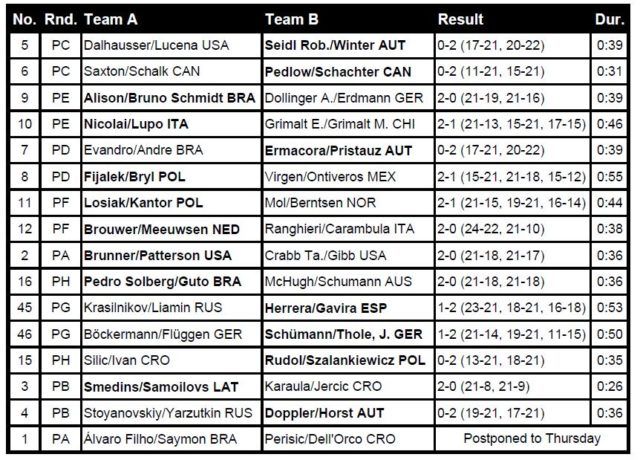 Brazil's Alison Cerutti/Bruno Schmidt took care of business in their first pool play match of the tournament, taking down Armin Dollinger/Jonathan Erdmann of Germany 2-0, (21-19, 21-16).
From the United States, Theo Brunner and Casey Patterson took down fellow Americans Taylor Crabb and Jake Gibb 2-0, (21-18, 21-17) to begin their Porec run. Phil Dalhausser and Nick Lucena fell victim to Austria's Robin Seidl/Tobias Winter 2-0, (21-17, 22-20), falling behind early in the competition.
The one match that was postponed on the men's side due to rain was set to be between Alvaro Filho/Saymon Santos of Brazil against Croatian soccer star Ivan Perisic and partner Niksa Dell'Orco.