Long Beach State is tops in both hitting efficiency and hitting defense, leading the nation with a .413 hitting percentage and also a .147 opponent hitting effort.
Hawaii has the market cornered on kills and assists, ranking first with 13.37 putaways per set and 12.59 helpers per stanza.
Defensively, Charleston (WV) is pulling up 11.60 digs per set, keeping its hold on the top spot in that category. Concordia-Irvine maintains its hold on the national lead in stuffs per set. 
UC San Diego's Tanner Syftestad continues to pace the country in both kills and points per set, but it is Loyola's Jeff Jendryk who is racking up the offense most efficiently.
There are new individual leaders this week in hitting percentage, assists, blocks and digs.
See all of the statistical leaders below after the first four weeks of the 2018 season. Full statistical rankings can be found on the NCAA website. 
Team Kills Per Set: Hawaii  – 13.37
Individual Kills Per Set: Tanner Syftestad, UC San Diego (5.39)
Individual Points Per Set: Tanner Syftestad, UC San Diego (6.32)
Team Hitting Percentage: Long Beach State  – .413
Individual Hitting Percentage: Jeff Jendryk, Loyola Chicago (.508)
Team Assists Per Set: Hawaii – 12.59
Individual Assists Per Set: Anthony Rivera, Charleston (WV) (10.80)
Team Blocks Per Set: Concordia (CA) – 3.13
Individual Blocks Per Set: Tomas Gago, Fort Wayne (1.44)
Team Digs Per Set: Charleston (WV) – 11.60
Individual Digs Per Set: Florian Ruhm, Limestone (3.10)
Opponent Hitting Percentage: Long Beach State – .147
Major Category Top 5s are Below:
Individual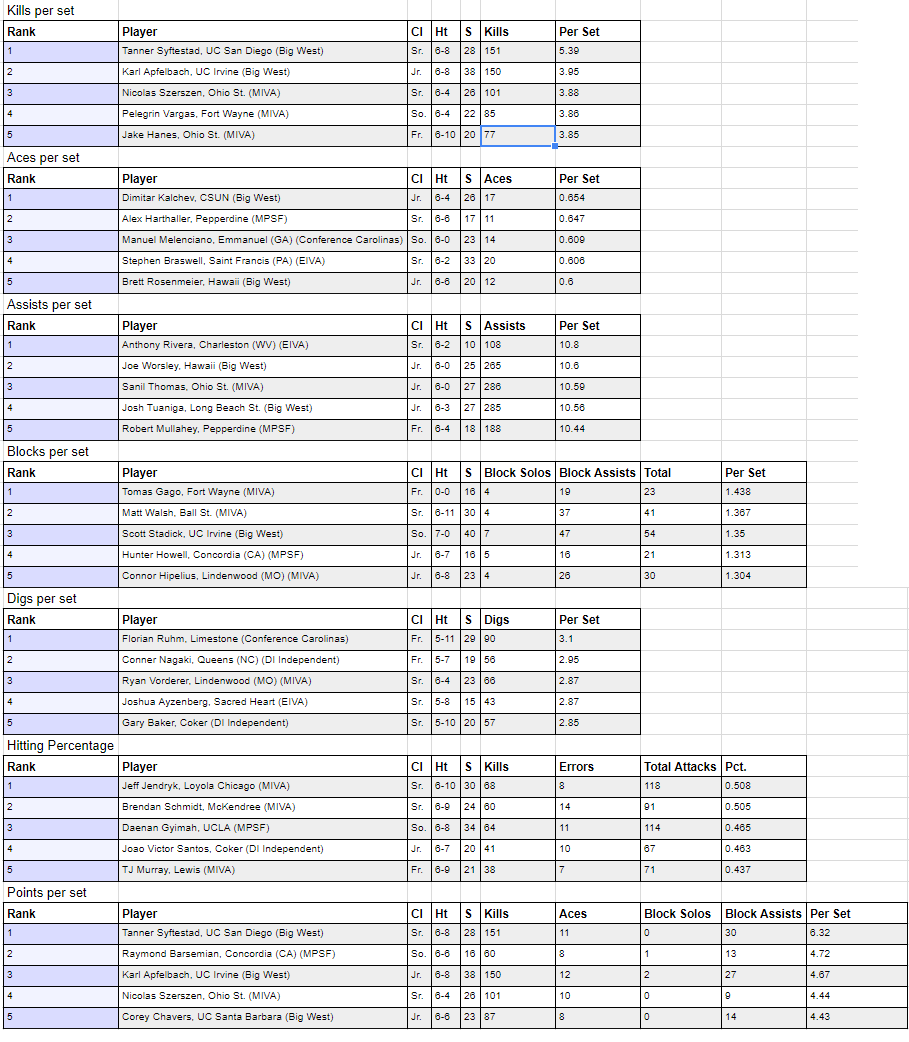 Team