Istanbul BBSK will have to finish its 2018 season without the services of 6-foot-5 middle blocker Berkan Eryuz, who suffered an ankle injury in the team's 3-0 quarterfinal match loss against Ziraat Bankasi on March 7.
Despite the loss of the 25-year old, BBSK managed a five-set win over Ziraat on March 10. The side fell to Halkbank Ankara in four sets in the semifinals of the Turkish National Cup playoffs on March 17, but has another shot at the team on March 25.
Eryuz was taken to the hospital after suffering the ankle injury trying to make a save in Set 2 of the match and reportedly needs surgery to repair it.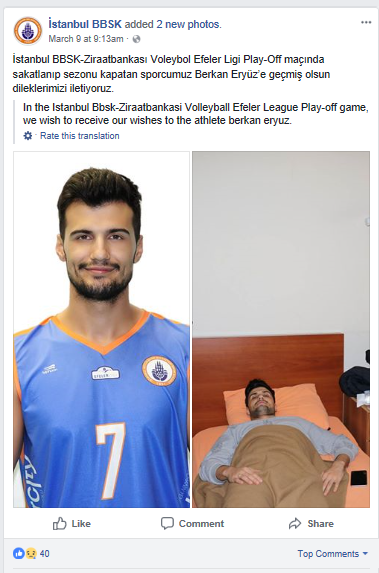 Eryuz won silver a member of the Turkey's Under 23 team at the 2015 World Championships.
Istanbul BBSK finished fifth in the league standings with 42 points behind Halk Bankasi, Arkas Spor, Fenerbahce Istanbul and Ziraat Bankasi. The team went 13-9 in Efeler Lig regular season action. The top eight teams in the league make the playoffs.
BBSK is current in the semifinal round of the Turkish National Cup competition after besting Ziraat in a three-match series, with a five-set win on March 4, the 3-0 loss on March 7 and another five-set victory on March 10.
Halk Bankasi won the regular season title with 56 points and a 20-2 record. The team faced Istanbul BBK three times during the regular season, winning via sweep on Dec. 16 and Jan. 23, and falling in four sets Oct. 8.