Italian national team star Alessia Orro renewed her commitment to Busto Arsizio, confirming the news via her official facebook page.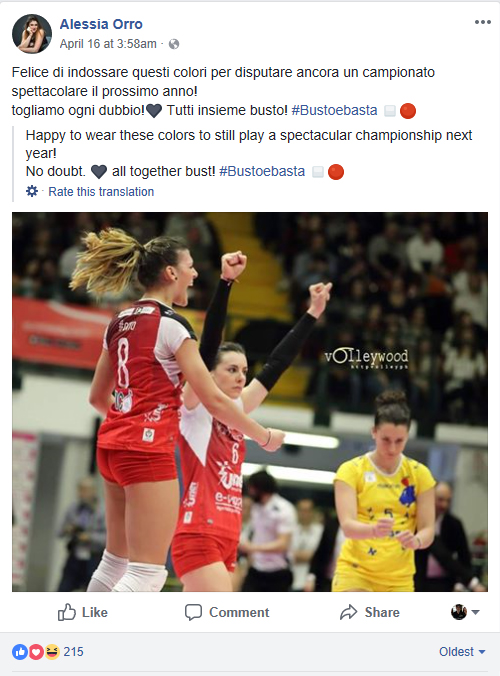 The 19 year old Oristano, Italy, native was a member of the Italian national team, which finished ninth at the 2016 Olympics. She made her debut with the Azzurra in 2015. She was a member of the Italian U18 team which won gold at the 2015 World Championship and the U20 team which won bronze.
After playing for Club Italia from 2013-14 to 2016-17, the setter joined Unet E-Work Busto Arsizio for the 2017-18 season. Busto is coached by Marco Mencarelli, who also coached Orro with the U18 team.
In 2017-18, Busto Arsizio finished fourth in Serie A play with 39 points behind Igor Gorgonzola Novara (51), Savina Del Bene Scandicci (50) and Imoco Volley Conegliano (50). The team finished the season in the league semifinals, falling to Igor Gorgonzola Novara in a trio of sweeps.
Orro is on the roster for the Azzurra in the Volleyball Nation's League tournament, facing off with the United States, Poland and Turkey in Lincoln, Nebraska, May 15-18.
The Italians are looking for their first world title since 2002, following a silver medal at the World Grand Prix in 2017. The Nation's League will mark Orro's 69th appearance in an Italian national team jersey.