2016 was a tough season for Team Yabou. With high expectations after winning the World League and European Championships in 2015, the French men only won a bronze in the 2016 World League and were eliminated in the group stage of the Rio Olympics.
In 2017, Team Yabou has started well by qualifying for the 2018 World Championships by winning Pool A in the 2nd round of European Qualifying last weekend in Lyon, France. Here is what Team Yabou is wearing this season. Their jerseys are designed by Errea and look very similar to last year, but there are some distinct differences.
Their blue jerseys have two shades of blue, light and dark. The light blue is the base, but the darker blue is more prevalent to the shoulders with broader line spacing. The advertising section is now slight arched in gold lines with a gap in the middle, as oppose to straight lines last year. The bottom hemline in the back has added a gold line as well, which matches the gold collar, sleeve loops and shorts outline.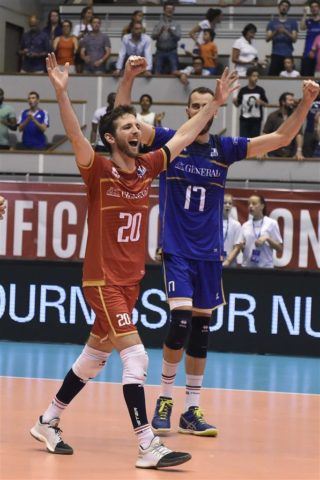 With the red jersey, there are two shades, light and dark, which is similar to the blue in design and prevalence. The light red is the base of the jersey.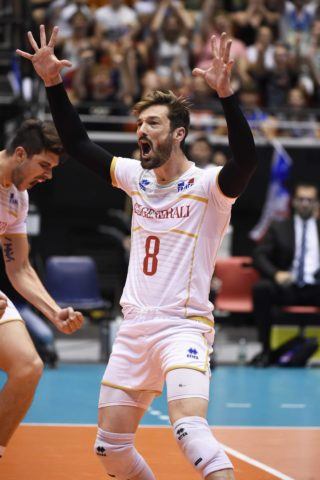 As for the white jersey, a light grey is used as the second shade color. Red numbers are used on the white jersey, but white numbers on the red and blue models.
One interesting quirk to the French team is their tops of their socks, matching the French tricolore flag.
The French men's team will travel to Kazan, Russia to play against Argentina, Bulgaria and Russia this weekend in their World League opening weekend.
All photos courtesy of the CEV